Beethoven Sheet Music and Biography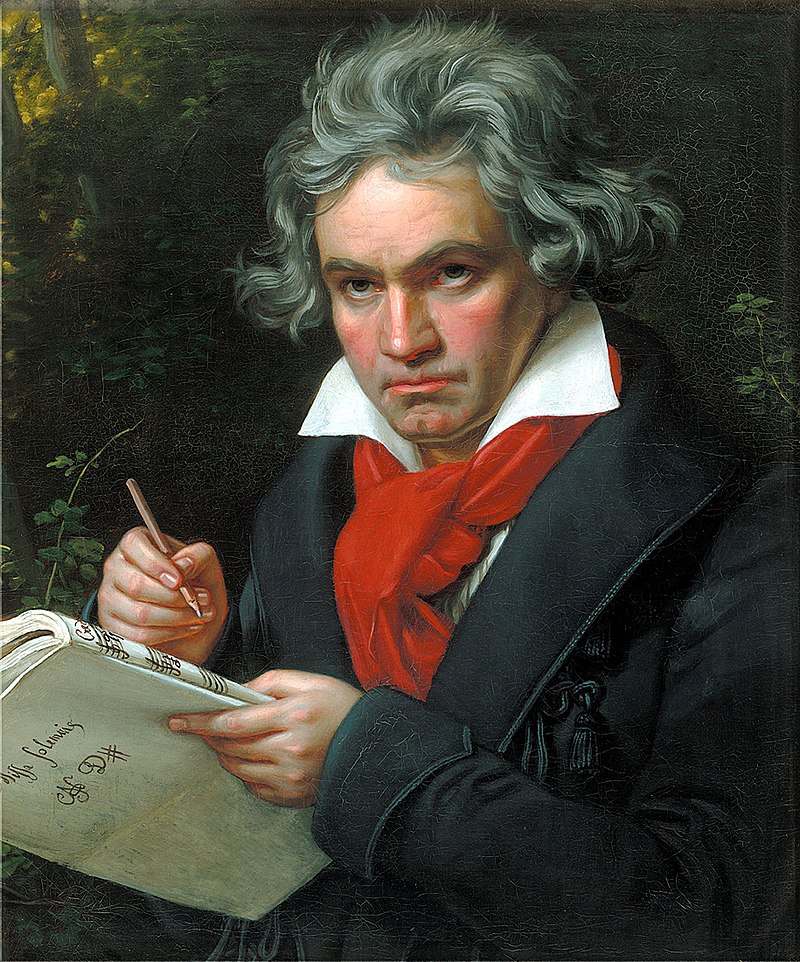 Ludvig van Beethoven is possibly the most well-known classical composer that has ever lived or certainly one of. A genius!
We have a large selection of his works arranged for different instruments on music-scores.com.
He wrote nine symphonies, five piano concertos, thirty-two piano sonatas, and many chamber works.
His ninth symphony is considered his most prestigious achievement. However many of us think of Für Elise as his most remembered piece. Read our blog article on Who was Elise? and download Für Elise Sheet Music or continue to our article on how to play Für Elise.
Early Years and Family Life
Beethoven was born in Bonn, Germany in 1770. Though the exact date of his birth is not known and likely to have been around 16th December as he was baptised on 17th.
Beethoven's grandfather (Ludvig) became Kapellmeister (music director) in the choir of the archbishop-elector of Cologne. He had a son Johann who followed him into the choir as a tenor. However, on the death of his grandfather, the family struggled financially and Johann turned to alcohol.
Beethoven was initially taught the violin and clavier by his father Johann who was known to be both strict, brutal, and relentless in his attempt to replicate Mozart and promote Beethoven as a child prodigy. Beethoven performed his first concert aged seven (although his father stated in the poster that he was six!)
Around 1780 Beethoven left school to study music full-time with conductor and composer Christian Gottlobb Neefe. Beethoven wasn't academic and in his own words "Music comes to me more readily than words." At the age of fourteen, he became Neefe's assistant as court organist enabling him to support his family at a time when his father's alcoholism and voice were deteriorating. It was with Neefe that Beethoven published his first composition, a set of piano variations Nine Variations on a March by Dressler in 18.
Career
At the age of twenty-one, Beethoven moved to Vienna where he studied composition with Haydn. In 1795 he performed his first public concert as a pianist in Vienna performing his own concerto; No.2, Opus 19, and another by Mozart. In addition to this, he published Three Trios for Piano, Violin, and Cello, Opus 1. He also toured during this period and his name became more widely known.
His first major orchestral work the 'First Symphony' appeared in 1800.
His works are categorised into three periods; early (1802 and before) middle/heroic (1802-1812); and late (1812-1827).
Beethoven started to go deaf at the age of just twenty-six. Initially, it didn't cause him many problems. However, as time went on he had to withdraw from concerts which were a major source of income for him and resulted in him disengaging socially.
Between 1803 and 1812 Beethoven produced the haunting Moonlight Sonata. This atmospheric piece is very popular at weddings. Listen with the link below and take a look at our separate post about an easy to play version of this piece.
Read more about our wedding sheet music suggestions from a variety of composers.
In 1810 Beethoven completed Fur Elise, however it was not published until forty years after his death! He also put music to some of the traditional songs and poems collected by Robert Burns such as Oh Charlie is My Darling and The Lovely Lass of Inverness.
Quite incredibly some of his most important compositions were created during the last ten years of his life when deafness had almost claimed what remained of his hearing. He went totally deaf in 1819.
Beethoven died at the age of fifty-six of severe liver damage. It is estimated that over ten thousand people attended his funeral procession.
Beethoven Sheet Music Downloads and Further Reading
On music-scores.com we have over 220 arrangements of Beethoven sheet music in PDF format for you to download.
For further information on this amazing composer take a look at Wikipedia and Britannica.