Saint-Saëns Sheet Music and Biography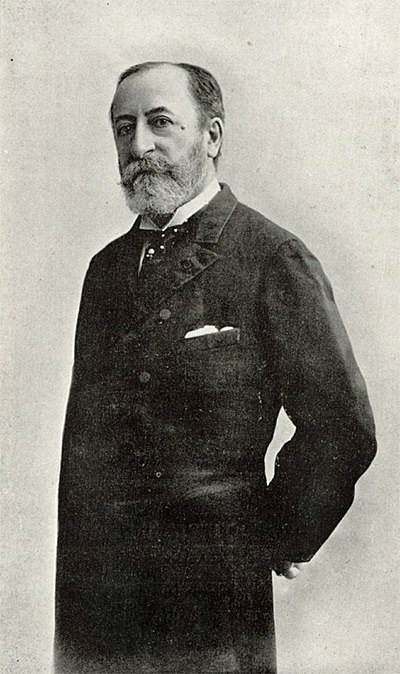 Camille Saint-Saëns was born in Paris in 1835. A gifted pianist, organist, and composer and a writer of criticism, poetry, and essays.
He was well known for Danse Macabre which is on the site including part 1 for Piano Duet as well as part 2 a difficult piece to play. We have arranged the theme for a number of different instruments. We also have the full set arranged for piano of Le Carnaval des Animaux series plus Le Cygne (No. 13) arranged for over 24 different instrument versions.
We have nearly seventy arrangements of Saint-Saëns sheet music
Early Life and Family
His father was a minister in the French Ministry of Interior, however, he died when Camille was barely two months old, so he was initially raised by a nurse in the country then returned to Paris to be with his mother and aunt who taught him, his first piano.
A child prodigy displaying perfect pitch by the age of two. However, this was carefully controlled by his aunt giving only occasional performances as she held concerns of him becoming too famous too soon. He gave his first public concert at the age of five accompanying a Beethoven violin sonata on the piano and his first recital when he was eleven.
Career
He was academically bright and studied organ and composition at the Paris Conservatoire and went on to win many prizes. At that time pianists, (even the most talented) were encouraged to study the organ as career opportunities were considered more advantageous. During this time he became acquainted with Franz Liszt who became a very good friend.
His first post on leaving the Conservatoire was at the church of St Merri. The church had 26,000 parishioners and over two hundred weddings a year. This provided Saint-Saens with quite an agreeable income. In 1857 he became the organist at the high profile Church of Madeline. A relationship lasting twenty years after which he became a freelance pianist and composer popular in both Europe and America. Between 1861 and 1865 he chose to become a teacher at Niedermeyer School, his students included Gabriel Fauré who was very much influenced by him as was his student Joseph Maurice Ravel.
In 1871 following his time in the National Guard during the Franco-Prussian War he escaped to England during the brief Paris Commune whilst his superior at Church of Madeline was murdered. He returned to Paris later that same year.
In 1874 he wrote Danse Macabre which became one of this most frequently played works. This piece is often used in spooky tales at Hallowe'en.
Despite the initial controversy of his opera Samson et Delilah in 1877 (banned in France due to the forbidden portrayal of biblical characters on stage). It is his most popular opera after finally being performed in Paris in 1890.
In 1886 he dedicated his Symphony No. 3 to Liszt who died that year. In that same year he wrote La Carnaval des Animaux.
Other Facts….
At the age of seven, his piano teacher called for all students to adopt the method of playing whilst resting their forearms on a bar located in front of the keyboard. This resulted in all power coming from the hands and fingers and not the arms. Saint-Saëns later wrote that this training was very beneficial.
He possessed a brilliant mind not solely restricted to music. As well as producing various academic articles about acoustics he had a good knowledge of maths, geology, botany, and butterflies.
Saint-Saëns married, nineteen-year-old Marie Laure Emile Truffot when he was forty. However, the relationship ended tragically as both their sons died within six weeks of each other. One died from illness and the other fell from a window. Saint-Saëns blamed his wife for this incident and the relationship ended, although they never divorced.
Saint-Saëns Sheet Music Downloads and Further Reading
On music-scores.com we have nearly seventy arrangements of Saint-Saëns sheet music. This includes various instrumental versions of Danse Macabre and La Carnaval des Animaux all in PDF format.
For further reading on this composer why not take a look at Wikipedia and Britannica.