Liszt Sheet Music and Biography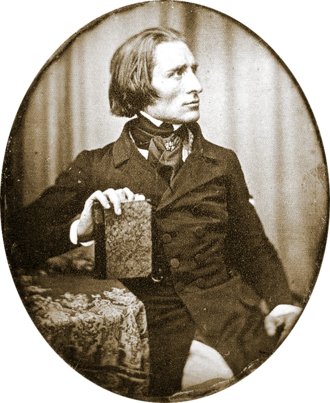 Franz Liszt was a prolific composer and a genius on the piano. Creative, virtuosic, and a real hit with the ladies! A heartthrob!
He was incredibly successful and a philanthropist, donating a lot of his money to charity, hosting concerts in aid of communities affected by disasters, and helping other composers.
His most famous piece is 'Hungarian Rhapsody' however he composed over one hundred original pieces for the piano including the challenging Un Sospiro Etude No. 39 and Consolation in E. Take a look at the variety of Liszt sheet music on our site.
Family and Childhood
Liszt was born on 22nd October 1811 in Austria. His father was musical and knew the likes of Franz J Haydn, Johann Hummel, and Ludvig van Beethoven personally from his service to Prince Nikolaus II Esterhàzy
He received his first piano lessons from his father and was composing by the age of eight. Following a concert appearance at the age of nine, a group of wealthy gentlemen approached Liszt and made an offer to finance his musical education for the next six years.
Liszt initially went to Vienna where his teacher was Carl Czerny. As a young man, Czerny received piano lessons from Beethoven and Hummel. Liszt also studied composition under Antonio Salieri. After his successful debut concert doors opened and he mixed within high society circles where he met with Beethoven and Franz Schubert.
At the age of twelve in 1823, Liszt wrote his first composition 'Variation on a Waltz by Diabelli'.
After the death of his father in 1827 Liszt moved to Paris with his mother. He gave lessons in both piano and composition to earn a living, involving a lot of travel and working abnormal hours which lead to an increase in his drinking and smoking.
Career & Relationships
In 1832 Liszt attended a charity concert organised by Niccolo Paganini inspiring him to become a virtuoso of the piano in the same way that Paganini was on the violin. He also met with Frédéric Chopin who's poetic and romantic influence enhanced his music.
A couple of relationships increased Liszt's musical output. One with Countess Marie d'Agoult, who later left her husband and joined Liszt in Geneva whilst he was teaching at the Geneva Conservatoire. They were happy for four years and had a daughter Cosima and a son, Daniel. However, their relationship grew strained with the Countess returning to Paris and Liszt touring to help raise funds for a monument of Beethoven in Bonn which was lacking in funds. Liszt continued to tour for eight years and it is said that he appeared well over one thousand times during this period. He would spend holidays with the Countess and his children, however, their relationship finally came to an end in 1844.
Later Years
Liszt toured and gave many concerts often in aid of charity and humanitarian causes. Apparently, he earned so much money that after 1857 all of his earnings went to charity!
He was encouraged by the Polish Princess Carolyne zu Sayn-Wittgenstein to give up touring and concentrate on composition, consequently leading to his retirement at the age of thirty after a Summer touring. She was very prominent in Liszt's life. The following year he took up an invitation by the Grand Duchess Maria Pavlovna of Russia to go to Weimar. In 1842 he took the position of Kapellmeister Extraordinaire to the Weimar, remaining there until 1861. In 1848 the Princess joined him after failing to get a divorce as a result of her husband and the Tsar of Russia intervening
Works
During his time in Weimar Liszt was able to compose and conduct producing a number of works which he is famous for today.
Hungarian Rhapsody is Liszt's most famous piece
Liszt's La Campanella is known to be one of the hardest piano pieces to play. Click on this link to watch a performance on YouTube and you can see why!
Final Years
In 1881 Liszt accidentally fell down the stairs in Weimar, and never fully recovered. Following this, he began experiencing further ailments and health deterioration. After attending a festival hosted by Cosima (his daughter) in 1886, it is thought he contracted pneumonia and died on 31 July 1886.
Liszt Sheet Music Downloads and Further Reading
On music-scores.com we have nearly thirty arrangements for you of Franz Liszt sheet music in PDF format for you to download.
For further information on this composer take a look at Wikipedia and ClassicFM.