Muzio Clementi Biography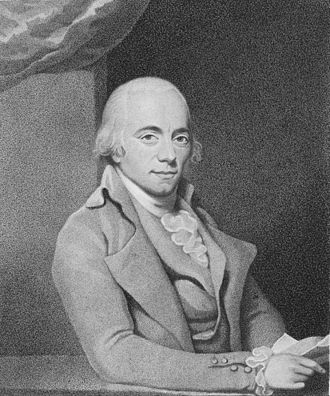 Muzio Clementi was an Italian composer, pianist, conductor, music publisher, editor, and piano manufacturer. Born on 23rd January 1752 he spent the majority of his life in England.
We have a selection of pieces from his six progressive Sonatinas Op.36 which are still popular amongst music teachers today.
His father, a silversmith realised his son's musical gift at an early age and arranged for private lessons with a relative who happened to be the maestro di capella at St. Peter's Basilica.
Early Career
At the age of seven Clementi had lessons in figured bass followed by voice, and then he studied counterpoint. He wrote his first oratorio by the time he was just thirteen. He was referred to as the 'Father of the Piano'.
Clementi made a huge impression on the wealthy Englishman Sir William Beckford who was visiting Rome when he was just fourteen. The Englishman made an arrangement with Clementi's family to sponsor Clementi through a musical education until the age of twenty-one in return for musical entertainment. Clementi was very studious and studied eight hours a day!
At the age of twenty-one when Clementi had fulfilled his obligations, he travelled to London where he became a successful pianist and composer.
For three years he was a harpsichordist at the Italian Opera in London and then he began touring around Europe. During this tour, he played for Queen Marie Antoinette in Paris and partook in a friendly musical contest with Mozart at the request of Roman Emperor Joseph II. (In case you were wondering, the Emperor diplomatically declared the contest a draw).
Clementi the Businessman
In 1799 Clementi's popularity saw a decline. This was as a result of Joseph Haydn's repetitive visits to London, and Mozart's highly publicised comment that 'Clementi was a Charlatan like all other Italians'. (Bizarrely a few years before this comment Mozart used the opening motif of Clementi's B-flat major sonata (Op. 24, No. 2) in his overture for The Magic Flute).
Clementi was a pretty astute and ambitious businessman and moved forward after the negative publicity. He co-founded a company manufacturing pianos and publishing music, which despite a devastating fire became incredibly successful. He even made an agreement with Beethoven which gave him full publishing rights on all his music in England. In addition to all his other incredible attributes, Clementi was a skilled mechanic and made improvements to the piano which are still in place today.
In 1810 he became one of the founders of the Philharmonic Society of London.
During his life, he married three times and had five children.
Final Years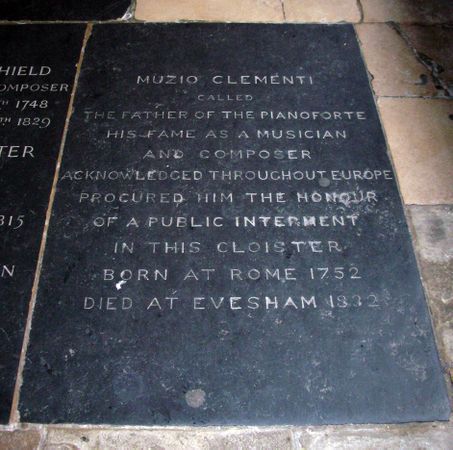 In his later years, Clementi travelled and conducted many of his symphonies around Europe. In 1828 he made his last public performance at the opening of the Philharmonic Society and retired from there two years later.
He spent his final years in Evesham, Worcestershire, and died on 10 March 1832 after a brief illness. He is buried in Westminster Abbey alongside three of his students.
Clementi Sheet Music Downloads and Further Reading
At music-scores.com we have over fifteen arrangements of  Muzio Clementi sheet music in PDF format for you to download.
For further information on this composer take a look at Wikipedia.