Bach CPE Sheet Music and Biography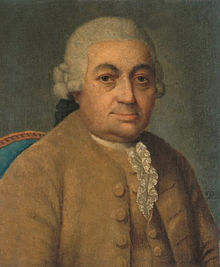 Carl Philipp Emanuel (CPE) Bach was born on 8th March 1714, the third son of JS Bach and his first wife Maria. He was one of four of Bach's children to become professional musicians. Despite his father's influence he became a musician in his own right and was one of the foremost composers of the early classical period.
Solfeggietto (Solfeggio), a short solo piece for keyboard is his most famous work and we have several arrangements for different instruments as well as the original. Another of his works, a piece for harpsichord Anna Magdalena No 27 Solo per Il Cembalo s included in A Little Notebook for Anna Magdalena that his father, JS Bach, compiled.
In 1740 CPE Bach gained the position of Harpsichordist to Frederick II of Prussia, then 6 years later he negotiated his exit from the position to become Music Director of Hamburg.
His numerous compositions include symphonies, chamber music, organ sonatas, and songs. Initially, his music was very traditional due to his position with Frederick II. However, on moving to Hamburg his music progressed and influenced by the likes of Haydn, Mozart, and Beethoven.
Personal Life
Carl Philipp Emmanuel married in 1744 and only three of his children survived to become adults. However, unlike his father's children, none became musicians.
CPE Bach died of a "chest ailment" in Hamburg on 14th December 1788. He is buried in the Michaeliskirche (The Church of St. Michael).
CPE Bach Sheet Music Downloads and Further Reading
On music-scores.com we have a some pieces of CPE Bach Sheet Music in PDF format for you to download.
For further information on this composer why not take a look at Wikipedia and Britannica.