Verdi Sheet Music and Biography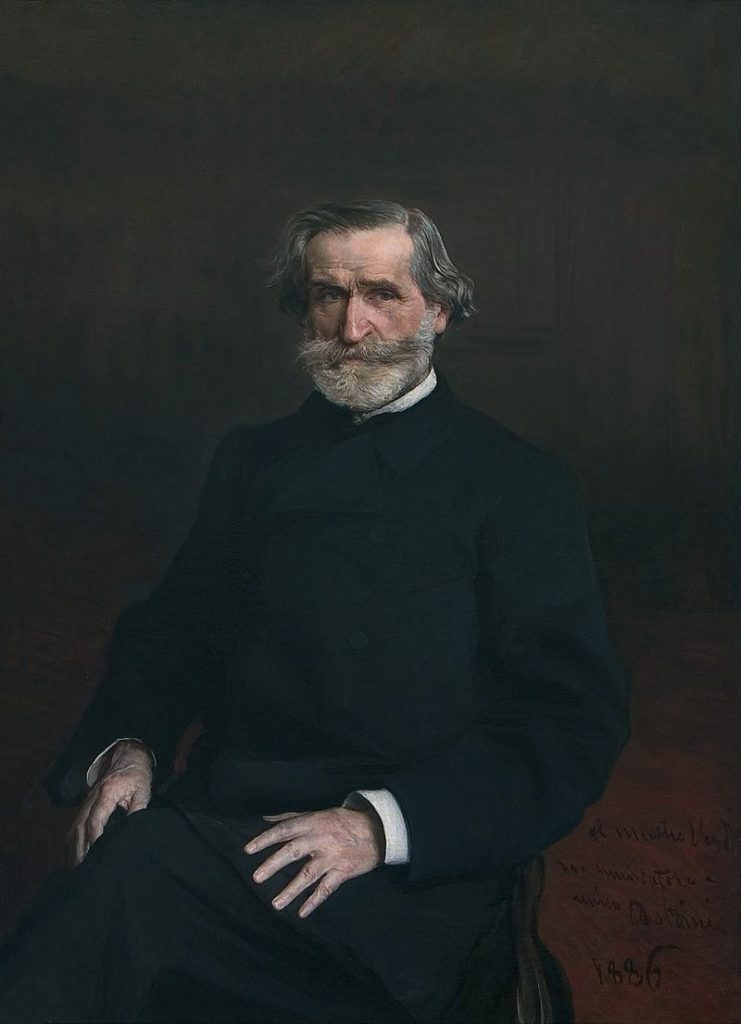 Giuseppe Verdi was an Italian opera composer born on either 9/10 October 1813.
He was born at the height of Ludvig van Beethoven's career and was a contemporary of Johannes Brahms, Richard Wagner, and Pyotr Tchaikovsky, he did however outlive them all.
On music-scores.com we have various arrangements of Verdi's music including Nabucco, Traviata, La Forza del Destino, and La Traviata.
Early Life
Verdi's parents were not musical, his father an innkeeper and owner of a small farm, and his mother a spinner.
His interest in music began from playing the organ at a young age, recognising this his parents bought him a spinet.
Giuseppe served in the choir at the local church and acted as an altar boy whilst taking organ lessons. On the death of the church organist, Verdi became the paid organist at the age of just seven!
Career
Verdi was taken under the wing of music enthusiast, Antonio Barezzi, who sent him to Milan to study. At the age of eighteen Verdi's application into the Milan Conservatory was rejected as he was too old, however, this obviously wasn't too detrimental to his career. In 1836 Barezzi made arrangements for him to marry his daughter.
Sadly in 1840, Verdi's wife died after the death of their two young daughters, and to make matters worse his opera Un giorno di regno (King for a day) was a huge failure. All this heartache and sadness sent Verdi into a depression and he didn't write for some time. However, he emerged from his grief by writing Nabucodonoser, and its performance as Nabucco in 1842, was a great success.
Between 1843 and 1849 Verdi worked very hard producing an astounding two operas a year. As expected the first ones being better than the latter.
Verdi had a distinct rivalry with Richard Wagner who was born in the same year. Their music differed strongly and each didn't quite understand the others. On the death of Wagner, it was however obvious from this quote that Verdi admired his rival:
"Let's not talk about it. A great individual has disappeared! A name that has left a most powerful mark on the history of art."
Verdi was a fan of Shakespeare and he wrote three operas based on this literature: Macbeth, Otello, and Falstaff.
He was also active in the Italian political world of events and as a result, his music became associated with their nationalist politics.
La Forza Del Destino, Aida, Don Carlos, Falstaff, Il Trovatore, La Traviata, Otello, Rigoletto are some of his most well known pieces.
Death
Verdi died of a stroke at the age of eighty-seven. On the announcement of his death, the whole of Italy went into mourning and thousands of people went to his funeral procession some of whom were singing 'Va, pensiero' chorus from Verdi's opera Nabucco.
Verdi Sheet Music Downloads and Further Reading
On music-scores.com we have over thirty-five arrangements of Giuseppe Verdi Sheet Music all in PDF format.
For further reading on this composer why not take a look at Wikipedia and Britannica.