The Lovely Lass of Inverness – words by Burns and music by Beethoven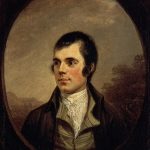 Our first update for January 2022 features four different ensemble arrangements of Beethoven's The Lovely Lass of Inverness. This Scottish folk song is based on the poem written by Robert Burns.
Each arrangement includes a part for voice and piano accompaniment. You can choose from Alto and Baritone Saxes, Oboe and Bassoon, Clarinet and Bass Clarinet or Trumpet and Trombone.
Burns wrote the poem in 1794 and his original suggestion was to set it to Blacklock's 'Upon the flowery banks of Tweed'. However several years later an Edinburgh civil servant George Thomson contacted Beethoven and asked him to compose tunes for a variety of different Scottish, Irish and Welsh folk songs. The Lovely Lass of Inverness was one of these sent to Beethoven and Thompson finally published a book of 25 Scottish Songs in 1818.
In all, Beethoven wrote arrangements for 179 different folk songs. None of the folk song books had much commercial success. Thompson suggested that Beethoven's arrangements were too difficult for the general public to perform.
Read more about Beethoven's folk songs in a great article on the TrioVanBeethoven website.
Look out for more information about Robert Burns, his poems and songs as we approach his birthday later this month.