Mozart Sheet Music and Biography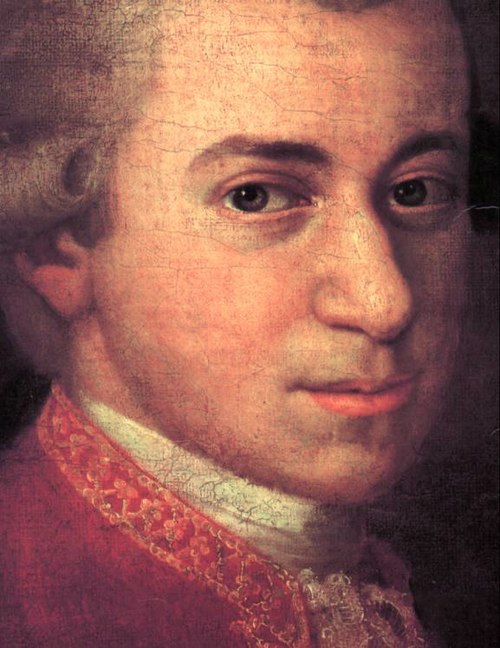 Mozart is one of the most popular classical composers. If you ask anyone they are likely to know at least one of his pieces (even if they don't know its name!). His many works include Ah, Vous Dirai-je, Maman, Rondo Alla Turca (Turkish March), Elvira Madigan, his famous Horn Concerto, and of course Eine Kleine Nacht Musik. There are over 300 different arrangements and pieces of sheet music on the site.
He was born in Salzburg on 27 January 1756 and lived a short life spanning only 35 years.
Family
Leopold Mozart was the father of seven children, unfortunately only Nanneryl and Wolfgang survived infancy.
When Nannerl was seven, she began keyboard lessons with her father, while her three-year-old brother watched. After Wolfgang's death, she reminisced:
'He often spent much time at the clavier picking out thirds, which he was ever striking, and his pleasure showed that it sounded good…. In the fourth year of his age his father, for a game as it were, began to teach him a few minuets and pieces at the clavier…. He could play it faultlessly and with the greatest delicacy, and keeping exactly in time…. At the age of five, he was already composing little pieces, which he played to his father who wrote them down.'
Leopold gave up his own musical career to educate his children. Nannerl and Wolfgang showed so much talent that in 1762 Leopold took them on the road, however, within a year Leopold put all his energy into his son. He spent the next fourteen years travelling Europe with him meeting composers, giving concerts and tutoring. Leopold very much controlled his son's life.
However, this was the basis for Mozart's incredible but unfortunately short career, during which his produced over 600 works.
Works
I am sure you all have your favourite. Here is a list of some of Mozart's most famous pieces.
Overture' from The Marriage Of Figaro, K492
Requiem Mass In D minor, K626
Piano Concerto No.23 In A, K488
Die Zauberflöte (The Magic Flute), K620
Symphony No.36 In C, K425 – Linz
Symphony No.41 in C, K551 Jupiter (his last)
Marriage
Mozart married Constanze and together they had six children. Sadly only two survived infancy. The Mozart's were visited by other composers such as Maria Theresia von Paradis.
Illness
Mozart fell ill during the premiere of his opera 'La Clemenza di Tito' on 6 September 1791 but continued to conduct the premiere of the 'Magic Flute' on 30 September but by November he was bedridden and sadly died on 5 December 1791.
Symphony 41 was one of his most famous pieces. and his last.
Mozart Sheet Music Downloads & Further Reading
On music-scores.com we have over 300 arrangements for you of Wolfgang Amadeus Mozart's Sheet Music.
For further information on this amazing composer read our blog post with 6 facts about Mozart or take a look at Wikipedia or Britannica.