Brahms Sheet Music and Biography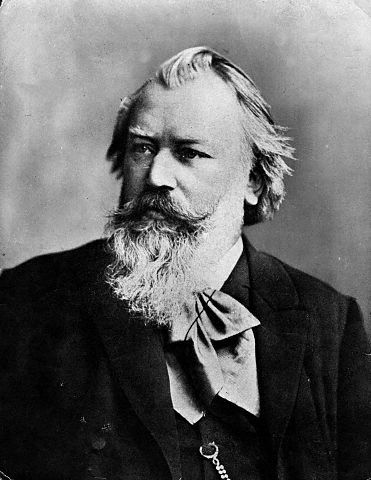 Johannes Brahms was a German composer and pianist, born in Hamburg on 7th May 1833. Such was his presence that he is often grouped with Bach and Beethoven to be known as the 'Three B's'
We have several of the original version of his popular Lullaby along with various arrangements.
We have over sixty arrangements of Johannes Brahms sheet music
Hungarian Dance No. 5 is another familiar and popular piece. We have arrangements for different instruments and ensembles.
Life and Career
At a young age, his piano teacher is known to have said, "he could be such a good player, but he will not stop his never-ending composing." His parents disapproved of his early career in composing (obviously thinking of the financial benefits) feeling that he would be much better off as a performer… It's a good job that we don't always listen to our parents!
Brahms met Joseph Joachim in 1853 and consequently, his musical career reached a turning point. Joachim introduced Brahms to the composer, Robert Schumann to whom Brahms became great friends until Schumann's death in 1856.
Love or not to Love?
Sadly Brahms view of love was very much shaped as a young boy by his parent's loveless marriage. His first job at the age of twelve found him playing in a brothel where he saw and experienced many unpleasant things. Consequently, this led to confusion when it came to love and as a result, his relationships never progressed.
At the age of twenty-five as well as being a rising music star he fell in love with Bertha who sang in a choir that he conducted. They spent a lot of time together and she used to sing a Viennese song to him. Brahms's emotional struggle resulted in him ending the relationship.
Brahms Lullaby
Ten years later he saw a pregnant Bertha with her husband and child, he felt sadness, longing, and loss on what could have been. As a gift to celebrate the birth of her son he wrote Brahms Lullaby. Between notes, you can hear the song Bertha used to sing to him. She named her son Johannes. Most people will know or have listened to this lullaby at some stage in their lives, I remember playing it to my children when they were babies in an attempt to soothe them.
Today the song is still widely used and it will remind people of different scenarios be it a film, place, or memory, for me it is the tune my old wind-up jewelry box played as the ballerina twirled around (now I am showing my age!).
Clara Schumann
Brahms also fell for Clara Schumann the wife of his very good friend Robert Schumann and well-known pianist (more so than Brahms). In 1853 Robert became mentally ill and ended up in an asylum. Brahms moved in with Clara and her children to support them, and their feelings for each other became apparent. However, both were racked with anxiety and guilt over their feelings for each other. Robert died in 1856 allowing Brahms and Clara's relationship to progress. However, after a holiday in Switzerland Brahms chose to return to Hamburg – no one knows what was said on the holiday leading to the finality of their relationship?.. He wrote Op. 121 on her death in 1896.
After Clara, he exchanged rings with a singer called Agathe, but then sent her a note: "I love you!… But I can't wear chains." As expected Agathe then put a stop to the relationship but grieved for years. Brahms himself admitted: "I have played the scoundrel with Agathe."
After a cancer diagnois Brahms died on 3rd April 1897 in Vienna.
Brahms Sheet Music Downloads and Further Reading
We have over sixty arrangements of Johannes Brahms sheet music in PDF format for you to download.
For further reading take a look at Wikipedia and Britannica.