Peterson-Berger Sheet Music and Biography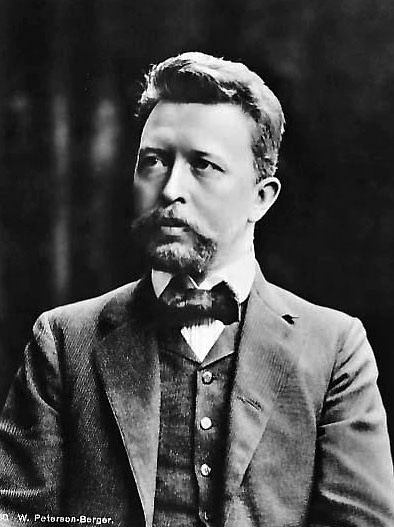 Wilhelm Peterson-Berger was a famous Swedish composer and music critic born on 27 February 1867.
We have a selection Peterson-Berger sheet music including Summer Garden and Lawn Tennis arranged for different instruments on music-scores.com. Those two pieces are amongst our favourite classical music for summer.
Peterson-Berger's most famous collection of works is Frösöblomster ('Flowers of Frösö') which he wrote to 'appeal to the masses'.
Early Life
Peterson-Berger's mother was an established piano player who gave Wilhelm his musical interest. His father was a land surveyor, who provided him with his love for outdoor life.
He studied in Stockholm at the Conservatory between 1886 and 1889 then headed to Dresden for a year.
His influencers were Beethoven, Wagner, Grieg, and Schumann, however, he clearly created his own style.
As a student, he visited Jämtland and the island of island Frösön. This location proved to have a huge influence on his life and career, returning there many times and finally building his dream house there. Between 1914 and 1930 he used it as a summer house (Sommarhagen). However, in 1930 he moved there permanently until his death in 1942. It is now a museum and cafe. He enjoyed hiking and took an interest in the indigenous people (The Sami)
Frösöblomster
The island provided him with inspiration for his music. In particular his eight melodies for the piano "Frösöblomster" (Flowers on the island Frösön) (1896).
Peterson-Berger's sheet music collection starts with Rentrée ('Return') reflecting the jubilation Peterson-Berger experienced on returning to Sommarhagen. This was followed by Sommarsång ('Summer Song'), his inspiration derived from wandering through the local meadows. Lawn Tennis reflects the playful nature of the sport and Peterson-Berger built a court next to his beautiful house. He was in fact one of the pioneers of the sport in Sweden. Till rosorna ('For the Roses') is the most commonly played piece along with Gratulation ('Congratulation) which is a Gavotte. Vid Frösö kyrka ('At Frösö Church') is a symphonic poem. Finally, Skymningen ('At dusk') is a goodbye but with the hope of return the following year and for many more to come.
Four years later he published a second volume consisting of six pieces. This didn't prove to be as successful as his first volume, and he published his third volume in 1914, the same year his house was completed.
Later Life
He was stage manager at the Stockholm opera between 1908 and 1910. This was a time when he was composing his opera Arnljot, which premiered in 1910 at the Royal Opera in Stockholm gaining him national recognition. The same year he composed his second symphony "Sunnanfärd" ('The Journey South') and began on his next. He also wrote his best chamber pieces in 1910.
Surprisingly, music did not provide Peterson-Berger with his primary income which he generated as a music journalist for a few Swedish newspapers including Dagens Nyheter. He also started two magazines.
Peterson-Berger died in Öbstersund Hospital in December 1942 at the age of seventy-five. He could apparently see Frösö across the shores from his sickbed.
Peterson-Berger Sheet Music Downloads and Further Reading
On music-scores.com we have over twenty arrangements of Peterson-Berger sheet music in PDF format for you to download.