Oh Charlie is my Darling – words by Burns and music by Beethoven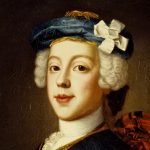 With Burn's Night in the coming weeks Anne has added a new Robert Burns/Beethoven song to the site, Oh Charlie is my Darling.
Oh Charlie is my Darling is one of the traditional songs collected by Robert Burns. Later an Edinburgh civil servant sent the song to Beethoven. Beethoven was asked to set it to music along with many folk songs.
This song is from the Jacobite rebellion. Charlie is Charles Edward Stuart also known as The Young Pretender, Bonnie Prince Charlie or the Young Chevalier. This song shows Bonnie Prince Charlie as a welcome hero returning to claim Scotland for the Scots.
Over the years Bonnie Prince Charlie as been portrayed as being quite effeminate. However this song certainly suggests him as more masculine and romantic.
This week's arrangements are for SAB Voices, Clarinet, Bass Clarinet and Piano, SAB Voices, Flute, Bassoon and Piano and SAB Voices, Violin, Cello and Piano.
You can catch up with all of our recently added sheet music and let us know if you would like any pieces transposed for your instrument or group.