Sullivan Sheet Music and Biography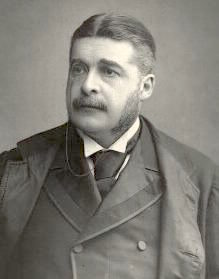 Sir Arthur Sullivan (born 13 May 1842) was an English composer. He is famous for his unique partnership composing operettas with Sir W.S. Gilbert including the Pirates of Penzance.
We have a selection of 15 sheet music arrangements of A Policemans Lot from the Pirates of Penzance on music-scores.com.
Education
Arthur's father was an Irish musician who became the bandmaster at the Royal Military College.
Arthur joined the choir of Chapel Royal and became a soloist. At the age of 14 he was awarded the first Mendelssohn Scholarship at the Royal Academy of Music, London.
His main teacher was John Goss. Goss was once a student of Thomas Attwood who himself was a pupil of Mozart. Sullivan's scholarship was extended from one to four years which enabled him to study at Leipzig Conservatory in Germany for two years. His father managed to get enough money together to cover Arthur's living costs and the Conservatory helped by waivered its fees.
Sullivan's graduation piece was The Tempest. Its performance in Crystal Palace a year later in 1862 was an overnight success and Sullivan became immediately famous!
Career
Sullivan earned a living teaching, as a church organist and writing hymns. He continued to do additional work during his operetta successes which included a time conducting Leeds Triennial Musical Festival and writing choral works. These works include Martyr of Antioch, and the cantata The Golden Legend (1886) which was second only in success to Handel's Messiah!
His first collaboration with W.S. Gilbert was Thespis in 1871, which met with little success. Five years later Richard D'Oyly Carte encouraged Gilbert and Sullivan to reunite resulting in their first success with Trial by Jury. Carte then put together the Comic Company contracting the two gentlemen to produce operettas. They produced twelve full-length ones! They built on each of their successes from The Sourcerer to H.M.S. Pinafore, then the Pirates of Penzance. In 1871 they moved production to Carte's newly built Savoy Theatre. Their operettas there including Iolanthe, The Mikado, and Gondoliers became known as the 'Savoy Operas'. Gilbert left the trio In 1891 after a disagreement, they did re-unite but didn't achieve their previous successes.
Throughout his career, Sullivan was often called upon by Royalty including Queen Victoria. He received his knighthood from the Queen in 1883.
Sullivan partnered with like-minded Basil Hood and produced The Rose of Persia which proved very successful. Whilst working on his second opera his health deteriorated and he died on 22 November.
A quirky little story featuring Sullivan occurs when his stockbroker filed for bankruptcy in 1882. Sullivan consequently took his dog as an asset in lieu of payment. When the dog died Sullivan had grown so attached to him that he had him stuffed and put in a glass case!
Pirates of Penzance: A Policemans Lot
A Policeman's Lot (is not a happy one) is from the operetta The Pirates of Penzance composed by Arthur Sullivan and the lyrics created by William Schwenck Gilbert.
This comic opera tells the story of Frederic, a young man in his 21st year who is released from his apprenticeship to a band of Pirates. However, he is bound to them until his 21st birthday. Frederic realises that having been born on 29th February his actual 21st birthday is not for another 63 years. His sense of duty obligates him to the pirates. Fortunately, he meets Mabel the Major – General Stanley's daughter who faithfully agrees to wait for him.
The operetta was instantly successful when it opened in New York on 31 December 1879 running for 3 months. It debuted in London on 3 April 1880 hosting 363 performances and is still very popular today.
Sullivan Sheet Music Downloads and Further Reading
On music-scores.com we have over ten arrangements of Arthur Sullivan sheet music in PDF format for you to download.
There's plenty of additional reading available about Sir Arthur and we recommend you visit The Arthur Sullivan Society for the most accurate information as well as news of performances and events.