Weber Sheet Music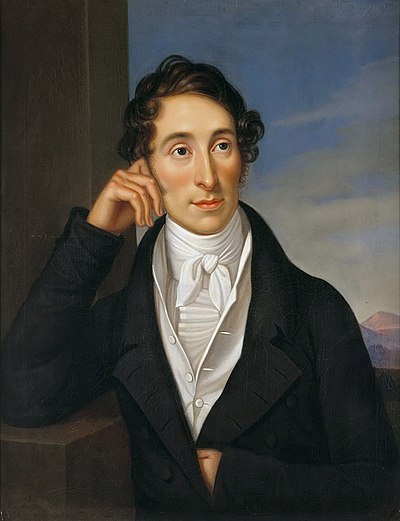 Carl Maria von Weber was a German composer, skilled pianist and conductor of the Romantic era. Born on 18 November 1726, he is one of the main founders of German Romantic opera.
His most famous piano piece is Invitation to the Dance, along with his opera's Der Freischütz, Euryanthe, and Oberon. He also wrote orchestral works Clarinet concertos, Konzertstück in F minor for Piano and Orchestra. You can find our Weber sheet music collection on music-scores.com.
The opera Der Freischütz was of a great influence to Richard Wagner.
Family
Weber was born into quite a musical family. His father, Franz Anton left the military for his passion for music and took up some directorships along with setting up a theatre company in Hamburg. His mother was a Viennese singer and one of his cousins, Constanze Weber married Mozart. Weber's father had ambitions for his son to follow in Mozart's footsteps providing him with music lessons and a good education. Franz Anton joined a travelling theatre company and in 1797 the family moved to Salzburg and later that year Munich. Sadly the death of both his mother and shortly after his sister from tuberculosis overshadowed this period. Weber himself was burdened with ill health, born with a diseased hip causing him to walk with a limp.
Life and Career
In Salzburg, Weber took up studies with Micheal Haydn (brother of Joseph Haydn). He later resumed his studies when returning to Salzburg in 1801, writing his 3rd opera Peter Schmoll und seine Nachbarn at the age of fifteen. (He wrote his first opera Das stumme Waldmädchen at the age of fourteen). During his time in Munich Weber was taught lithography by the inventor himself; Aloys Senefelder.
In 1804 he took a music directorship in Breslau. His inexperience combined with a serious accident involving a wine bottle containing engraving acid which permanently damaged his voice forced him to resign. Weber was frivolous in his next position as secretary to King Frederick I of Württemberg and found himself in serious financial problems. Consequently, this led to his involvement in illegal activities resulting in both he and his father being banished from Württemberg.
Moving on to Mannheim he met with many composers and artists. He toured around Europe composing and promoting German opera and became Director of the Opera in Prague in 1813, then Dresden. In 1819 he wrote his most famous piano piece, Invitation to the Dance. Then two years later in 1821 he successfully premiered the opera Der Freischütz, bringing increased popularity and performances around Europe. Next came the opera Euryanthe and then he received an invitation to the Royal Opera in Covent Garden to compose and produce Oberon premiering in 1826.
He travelled to London despite his ill health and conducted the premiere and twelve sold-out performances of Oberon. Sadly at the age of just thirty-nine on 5 June 1826, he died of tuberculosis like his mother and sister. He was initially buried in London, however, his remains were transferred to Dresden eighteen years later.
Weber Sheet Music Downloads and Further Reading
On music-scores.com we have over twenty arrangements of Weber's music including various instrumental versions of Weber's Op.33 Variations and Op.10a No.1, 2nd Movement: Romanze all in PDF format.
For further reading on this composer why not take a look at Wikipedia and Britannica.