Mykhailo Verbytsky Biography
Verbytsky was a Ukrainian Greek Catholic priest, composer and conductor.
He best known for his contribution in creating the Ukraine State Anthem.
Early Life
Verbytsky was born on into a Catholic family on 4th March 1815 in Nadsiannia region along the Polish/Ukraine border. Though we cannot be certain of these facts, it is possible that he was born in Yavornyk Ruskyi and baptised in Ulucz where his father was the local priest.
Both of Mykhailo's parents had died leaving him orphaned when he was just 10 years old. His uncle, Bishop Ivan Snihurskiy stepped in and brought him up. They lived in the Polish city of Przemyśl. This is where his uncle founded the first Ukrainian language printing press. The press published collections of Ukrainian folk tales and books about the Ukrainian language.
His uncle also founded a teaching institute, a cathedral choir and a music school. Verbytsky grew up in a very active and creative surroundings.
Career and Works
Verbytsky entered the Theological Seminary in Lviv in 1833. Whilst there, he became very engaged with music. He learnt to play the guitar, his favourite instrument, and even wrote an instructional book on how to play it. Eventually Mikhailo graduated into the priesthood, despite money troubles and having to leave the Seminary on two occasions.
Verbytsky continued with his music and composed over one hundred pieces including symphonies, operettas, choral and chamber works.
State Anthem of Ukraine
Verbytsky is best known for composing the Ukraine state anthem. He took a folk song melody and arranged it to the words of Shche ne vmerla Ukrainy a poem by patriot Pavlo Chubynsky. The piece was first performed at the Ukraine Theatre in Lviv, in 1864. The anthem went through various adaptations until 2003 when it was officially adopted by the Verkhovna Rada (Ukraine parliament).
Later Life
Mykhailo died on 7th December 1870 in Mlyny, Yavoriv county, Galicia.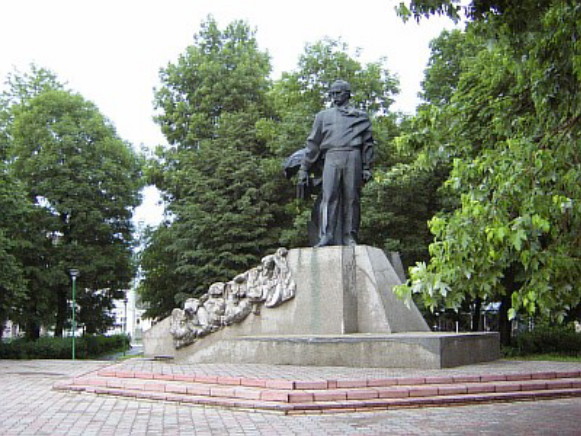 Verbytsky Sheet Music Downloads and Further Reading
On music-scores.com we have a few arrangements of Verbytsky sheet music in PDF format for you to choose from.
Read more about this composer at Wikipedia and the Internet Encyclopaedia of Ukraine.