Tchaikovsky Sheet Music and Biography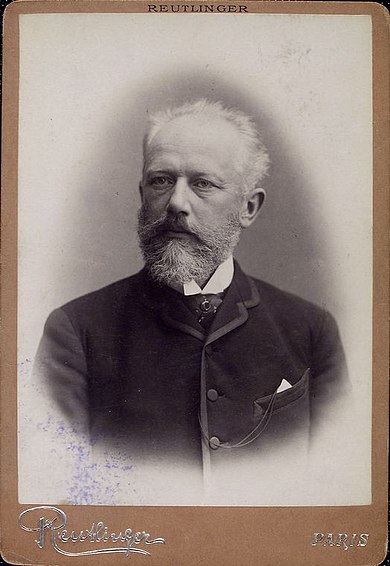 Pyotr Ilyich Tchaikovsky (born 7 May 1840) is one of the most well-known composers …. Like a Super-Composer! …. there are models and super-models, so why not composers and super-composers! Tchaikovsky was born in the times of Tsar rule in Russia. His house in Ukraine was recently destroyed by the Russian army
He was the pioneer of ballet and Russian music.
Even for those who know very little about classical music, everyone has heard of at least one of the following: 1812 Overture, Swan Lake, Nutcracker Suite, or Tchaikovsky …. even if they can't spell his name. Click on the links above and it will take you to the sheet music on our site.
Tchaikovsky was the first Russian composer to make it internationally.
Early Life & Family
Tchaikovsky's father was from a family with a long alliance to the military. Both his mother and father were trained in the arts. Pyotr was one of six surviving children, he was close to his sister Alexandra, whose family became his, later life, she had seven children.
By the age of four, Pyotr was spontaneously playing the piano and composing.
Education & Early Career
In 1850 he went to a Prep boarding school for two years in St Peterburg in preparation for a career in the civil service. This early separation from his mother at the age of ten had a traumatic impact on him and even more so when she died four years later. During his final years at school, his father recognised his talent and arranged private music lessons.
In 1859 he pleased his family by taking a bureau clerk post with the ministry of justice which he held for four years, however, during this time his fascination with music just increased.
Throughout this time period, there was very little opportunity in Russia to gain a formal musical education, however, Tchaikovsky did get the chance to enter the St Peterburg Conservatory as one of its first students. Here he gained a Western perspective of music which combined with his previous Russian teaching gave him the blended style he became famous for. In 1865 he graduated and took the opportunity to become the Professor of Harmony at the Russian Musical Society in Moscow. This was later renamed the Moscow Conservatory. Teaching wasn't Tchaikovsky's favourite occupation and he resigned in 1878 and chose to compose for the rest of his life.
Love
The love of his life was Belgium Soprano, Desire Artot whom he got engaged to in 1868. However, they split up and other than his brief marriage ten years later in 1877 to former student Antonina Miliukova there was no one else. It is likely that Tchaikovsky was homosexual, however Soviet censors tried to suppress this personal information.
Works
His most famous ballets are Swan Lake, Sleeping Beauty and The Nutcracker and his operas include The Oprichnik, Vakula, the Smith/Cherevichki, Mazepa and The Enchantress.
In total Tchaikovsky wrote 3 ballets, 11 operas, 7 symphonies, 5 suites, a violin concerto, 3 piano concertos, 3 overtures and 8 single-movement programmatic orchestral works, 20 choral works, 4 cantatas 3 string quartets, a string sextet, and more than 100 songs and piano pieces.
Death
Tchaikovsky sadly died on 6 November 1893 at the age of just fifty-three. There is some speculation surrounding his death – was it of cholera or suicide?
Did you Know?
Tchaikovsky and Saint Saëns used to imitate the ballet dancers at the Moscow Conservatory
After his very brief marriage in 1877 he made a failed attempt at committing suicide then fled overseas.
Tchaikovsky hated his 1812 Overture due to its lack of warmth and love and he loathed its popularity.
He liked to walk two hours a day and enjoyed mushroom picking!
Tchaikovsky was able to resign from the Moscow Conservatory due to a wealthy widow called Nadezhda von Meck who provided him with monthly payments until 1890. She did however stipulate that they never meet!
Tsar III of Russian honoured Tchaikovsky and gave him a lifetime pension.
Tchaikovsky Sheet Music Downloads and Further Reading
On music-scores.com we have nearly one hundred arrangements for you of Pyotr Ilyich Tchaikovsky Sheet Music all in PDF format.
For further reading on this amazing composer take a look at Wikipedia and Britannica.