Vladimir Rebikov Biography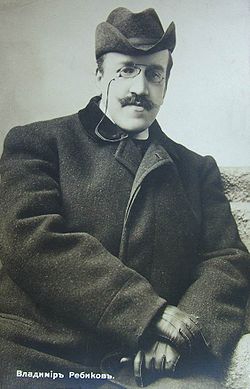 Vladimir Rebikov (born on 31 May 1866 (OS 19 May)) was a late-Romantic, twentieth-century Russian composer and pianist.
His most famous piece within Russia is 'The Christmas Tree', which he wrote in 1901.
We have arrangements of Rebikov sheet music such as 'Shepherd Playing His Pipe' on music-scores.com.
Life and Career
Rebikov studied piano with his mother. His sisters also played the piano.
He went to the Moscow Conservatory, studying music theory with a student of Tchaikovsky – Nikolai Klenovsky. Afterward, he continued his studies in Berlin and Vienna for three years.
His career started surprisingly with opera rather than piano in Odessa in 1894 with opera V grosu, Op. 5 (In the Storm). During his time in Odessa, he was a teacher. He also taught at the Philharmonic School in Moscow, Kiev, and Kishinev.
His teaching and performances in many countries within the Russian Empire enabled him to meet fellow composers including Claude Debussy. These travels gave him time to reflect on his work and recognise the influences of Pyotr Tchaikovsky and Edvard Grieg. This evaluation encouraged him to change and create his own style. He wrote his first piece in 1898 and it was a series of short pieces for the piano called Mélomimiques, Op. 10. in which music and mime are combined.
Between 1901 and 1904 Rebikov ran the first-ever, composer controlled record label. The label issued the earliest phonograph records of singers from the Moscow Opera, performing both Rebikov's own works and that of others.
In 1909 he settled in Yalta in Ukraine. He continued to experiment but not always successfully. In his final theatrical works, Dvorianskoe gnezdo, Op. 55: (The Gentry's / Nobleman's Nest, 1916), he chose a Turgenev play where the vocal parts are spoken and the action on stage is supported by music. However, despite his courageousness, this experiment was unsuccessful.
Later Years
Rebikov died at the age of just fifty-four, however, in his later years he was forgotten and became disillusioned. He thought that other composers including Alexander Scriabin and Claude Debussy, had taken his ideas.
Rebikov Sheet Music Downloads and Further Reading
On music-scores.com we have various instrumental versions of Rebikov sheet music in PDF format for you to download..
For further reading on this composer take a look at Wikipedia and All Music.