Hello Music-Scorers!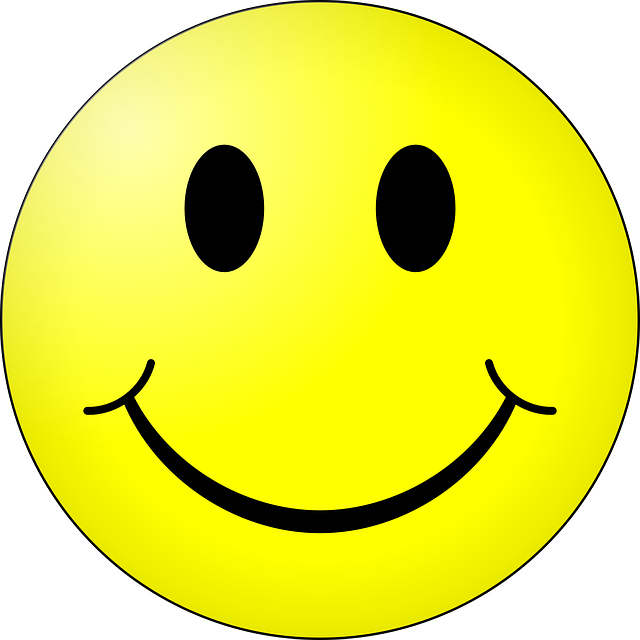 I hope this email finds you all safe and well. Since our last update England has gone back into lockdown and where possible we are back to working from home.
Anne has been very busy over the passed few weeks adding to music-scores.com. We have arrangements from Tchaikovsky, Gluck, Jessel and Anne herself!
If you can't find the arrangement for your instrument click on one of the links below and scroll down the page and click on similar titles which will show all the arrangements for that piece.
Tchaikovsky: The Seasons, Op 37: December: Noel
December, Noel from The Seasons, evokes bells and happiness for the festive season
Wind 6 (flute, oboe, 2 clarinets, bass clarinet, bassoon)
String 6 (3 violins, viola, cello, contrabass)
Piano Duet
Piano


Christopherson: Reindeer Rampage:
This is one of Anne's own compositions – Santa's reindeer are having a bit of fun before their work begins at Christmas. They try to sing some carols, but cannot agree on which one, so they return to jumping around and then home again to Santa.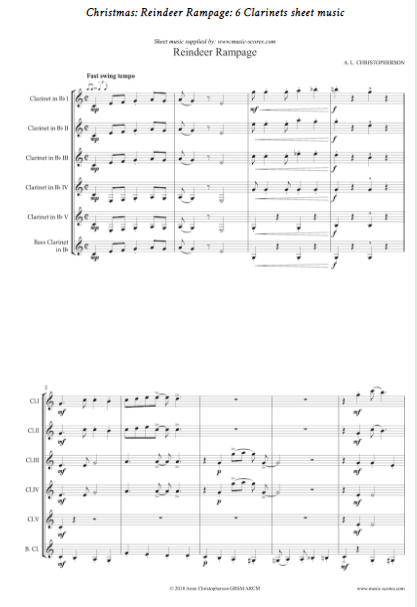 Clarinet 6 (5 clarinets & bass clarinet)
Clarinet 5 (4 clarinets & bass clarinet)
Gluck: Orfeo ed Euredice: Dance of the Blessed Spirits:
Dance of the Blessed Spirits, from the Opera Orfeo ed Euridice, Act 2. Orpheus, a legendary musician who could charm anything with his music, is trying to return his wife Euridice from the underworld.

3 Alto Sax, 2 Tenor Sax, Baritone Sax
Jessel: Parade of The Wooden Soldiers:
We now have 13 arrangements of this piece, originally The Parade of the Tin Soldiers. Jessel was famous for his operettas until his music was banned by the Nazis, but this is one of his few pieces that lives on today. Used in the Betty Boop cartoon, and for Children's Hour on the BBC, this is beloved by marching bands and orchestras alike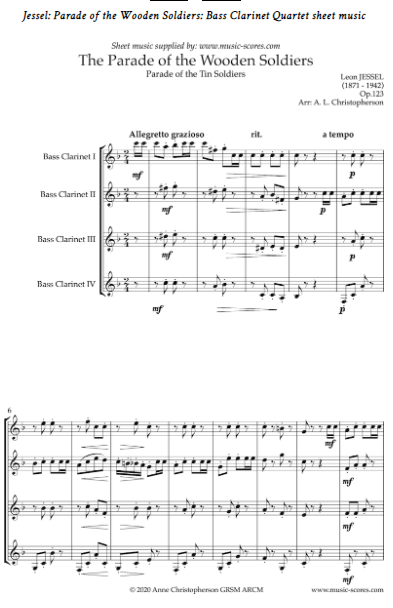 Bass Clarinet Quartet
Wind Quartet
Clarinet Quartet
Trombone Quartet
Cello Quartet
String Ensemble (3 violins & cello)
String Quartet
Violin & Piano
Trumpet & Piano
Flute & Piano
Clarinet & Piano
Alto Sax & Piano