Leontovich Sheet Music and Biography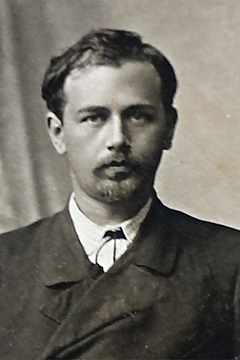 Mykola Dmytrovich Leontovich was a Ukrainian composer, choral conductor, and teacher.
In 1904 Leontovich wrote his most popular piece, 'Shchedryk' more commonly known to English speakers as 'Carol of the Bells'. We have over fifty unique arrangements of this lovely piece of Leontovich sheet music for you to choose from. Try it for tenor saxes, cello, flute, clarinet and piano, and many more. Read more about the history of Carol of the Bells on our blog post.
We think the Fairfield County Children's Choir performance on YouTube is wonderful.
Life and Career
Leontovich was born on 13th December 1877 (O.S. 13 December). His father was a village priest just like his grandfather and great grandfather before him.
Mykola received his first music lessons from his father who was accomplished in playing the double bass, cello, harmonium, guitar, and violin. He also conducted a school choir whilst Mykola's mother was a singer.
Following the family tradition, in 1899 Leontovich graduated as a priest. He then went to St Petersburg to continue his musical studies at the St Petersburg Court Capella and additionally received private lessons. However, due to the Independence of the Ukrainian state in 1917 Leontovich moved to Kiev, where he began working at both the Kiev Conservatory as a music professor and the Mykola Lysenko Institute of Music and Drama.
He became a specialist in Capella choral music fluctuating between original music, folk melodies and text, and church music. Over time he produced some imaginative works and created an elaborate style.
Today Leontovich's music is playing predominantly in Ukraine, however, Carol of the Bells remains popular elsewhere.
Death
Leontovich met with quite an unusual early death at the age of forty-three. He was shot dead/assassinated in his parent's home. The reason why depends on which version you choose to read. Was it a burglar or a member of the Soviet secret police, who then robbed the family? Whichever way it meant that he didn't get to finish his most ambitious opera 'on the Water Nymph's Easter'.
Leontovich Sheet Music Downloads and Further Reading
On music-scores.com we have over fifty arrangements for you of Leontovich Carol of the Bells Sheet Music.
For further reading on this composer take a look at Wikipedia and All Music