Telemann Sheet Music and Biography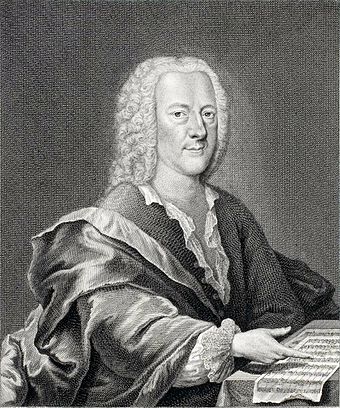 Georg Philipp Telemann was born on March 14th 1681 in Magdeburg, Germany. He was a composer of the late Baroque period writing church compositions, sacred and secular music.
He was one of the most prolific major composers, writing in excess of three thousand works and three autobiographies. His Oboe Sonata in A minor TWV 41:a3 from Der getreue Musikmeister is a favourite of ours and we have over 35 sheet music arrangements for different instruments.
Like many of his fellow composers, including Nikolai Rimsky-Korsakov, Scott Joplin and Edward Elgar he taught himself composition.
Family
Telemann's father was a Protestant Minister who sadly died when his son was only four years old. His mother was the daughter of a clergyman and his elder brother took holy orders. It is extremely likely that Georg would have followed the same path had he not developed such an amazing musical talent.
Early Life
Telemann was not a child prodigy, in fact, his love of music wasn't immediate. He started receiving lessons from a local organist at the age of ten. His family were averse to the idea of music which meant that Georg did all his practising in secret, even managing to write an opera at the age of twelve!
In his teens with the support of his school and even the rector, Telemann became skilful in performing, composing and teaching himself the violin, recorder, oboe, viola de gamba, chalumeau, clavier and many other instruments.
He went to Leipzig University intending to study law, instead, he became a professional musician.
Career
Telemann wrote works for the Roman Catholic Church Thomaskirche which has associations with many composers such as Richard Wagner, Felix Mendelssohn and JS Bach.
Being of a similar age you would have expected Bach and Telemann to be competitors, when in fact Telemann was actually godfather to Bach's second son, CPE Bach (he was even given his middle name).
Telemann left Leipzig at the age of twenty-four and went to Poland as Kapellmeister for the Count Erdmann II of Promnitz. In 1709 he married Amalie Louise Juliane Eberlin, the lady in waiting to The Countess. They had a daughter, but sadly Amalie died in 1711 which left Telemann incredibly depressed.
Frankfurt was his next destination becoming Kapellmeister at St. Catherine's church. It was here that he met and married his second wife, Maria Catharina Textor in 1714. They had nine children!
Wishing to progress further Telemann moved to Hamburg in 1721. He became the Kantor of the Johanneum Lateinshule and Kapellmeister of the five largest churches (on his death in 1767 CPE Bach took over the churches). In 1722 Thomaskirsche offered him the position of Thomaskantor, however, he turned it down when the Hamburg authorities offered him a pay rise. This was fortunate for JS Bach who took the position at Thomaskirche – apparently the fourth in line!
Meanwhile, his wife was having affairs and accrued large gambling debts which amounted to more than Telemann's yearly salary. Fortunately, his friends and some of his music publications were able to save him from bankruptcy! Georg and Maria split up in 1736.
Later Years
In his sixties Telemann's productivity reduced and he took up gardening (a hobby shared by Handel). Andreas, his eldest son died in 1755 and consequently, he was given the responsibility of raising his grandson.
In 1767 at the age of eighty-six, he died of a chest ailment.
During his life, Telemann wrote three times as many works as Bach and fives times as many as Mozart!
Telemann Sheet Music Downloads and Further Reading
On music-scores.com we have nearly forty arrangements for you of Georg Philipp Telemann Sheet Music.
Read more about this composer at Wikipedia and Britannica.