Rimsky-Korsakov Sheet Music and Biography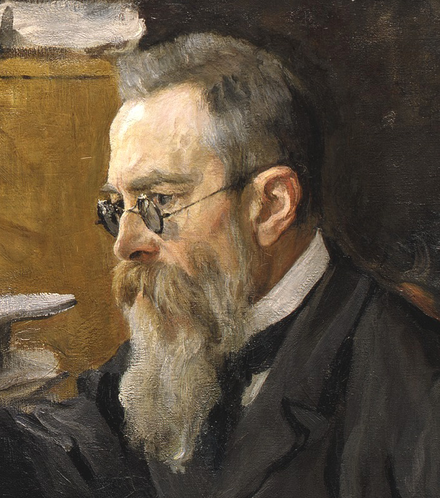 Nikolai Andréyevich Rimsky-Korsakov was born in Russia on 18 March 1844.
You can see our Rimsky-Korsakov sheet music collection including Flight of the Bumble Bee and Scheherezade Op. 35 3rd Mvt on music-scores.com.
Between 1856 and 1870 he was part of the group known as 'The Five / Mighty Five / Russian Five'. Their objective was to promote Russian musical independence from the West. Its members were Mily Balakirev (leader), César Antonovich Cui, Modest Mussorgsky, Alexander Borodin, and Rimsky-Korsakov.
Life and Career
Rimsky-Korsakov's father was a government official, and his mother was both well-educated and played the piano. His uncle was in the navy and his brother became a marine officer. Nikolai himself became a navy cadet at the age of twelve.
In 1861 Rimsky-Korsakov met Mily Balakirev who gave him the inspiration to become a serious composer. His first composition resulted in his acceptance in 1871 as a professor of musical composition, orchestration, and harmony at St Peterburg Conservatory. In addition, this self-motivated individual took it upon himself to become a master of Western methods studying meticulously over a three-year period. During this time he was also incorporating the skills of his fellow members of The Five. Richard Wagner also played a part in influencing his music.
He became an officer in the Imperial Russian Navy, then a civilian Inspector of Naval Bands. However, he was able to combine his military career with that of composing and teaching. His most famous pupil was Igor Stravinsky. Rimsky-Korsakov held a passion for the sea which influenced two of his orchestral pieces: Sadku – the musical Tableau and Scheherazade.
During the last twenty years of his life, he chose to concentrate on opera culminating in the famous The Golden Cockerel.
Having been a sufferer of angina it got to a point in 1907 when he could no longer work, he died the following year at the age of seventy-four.
Fun Fact
During a rehearsal of a Rachmaninoff concert, Rimsky-Korsakov shouted "They are using B flat clarinets!" Rimsky-Korsakov was sat listening at the back of the theatre without a score. However, it was apparent that the score specified clarinets in A, a detail which (almost) no one noticed.
Rimsky-Korsakov Sheet Music Downloads and Further Reading
On music-scores.com we have over twenty arrangements of Rimsky-Korsakov sheet music in PDF format for you to download.
Read more about this composer at Wikipedia and Britannica.