Rimsky-Korsakov Sheet Music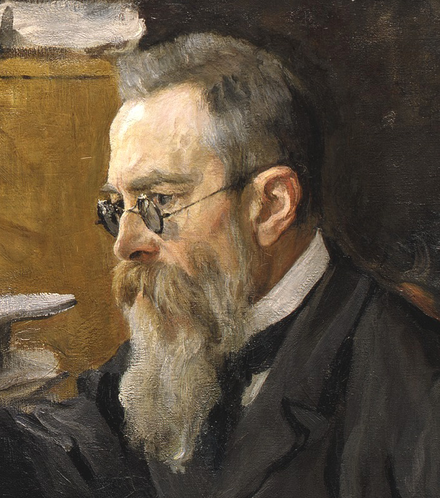 Nikolai Andréyevich Rimsky-Korsakov was born in Russia on 18 March 1884.
Between 1856 and 1870 he was part of the group known as 'The Five / Mighty Five / Russian Five' . Their objective was to promote Russian musical independence from the West. Its members were Mily Balakirev (leader), César Antonovich Cui, Modest Mussorgsky, Alexander Borodin and Rimsky-Korsakov.
You can see our Rimsky-Korsakov sheet music collection on music-scores.com.
Life and Career
Rimsky-Korsakov's father was a government official, and his mother was both well-educated and played the piano. His uncle was in the navy and his brother became a marine officer. Nikolai himself became a navy cadet at the age of twelve.
In 1861 Rimsky-Korsakov's met Mily Balakirev who gave him the inspiration to become a serious composer. His first composition resulted in his acceptance in 1871 as a professor of musical composition, orchestration and harmony at St Peterburg Conservatory. In addition, this self-motivated individual took it upon himself to become a master of Western methods studying meticulously over a three year period. During this time he was also incorporating the skills of his fellow members of The Five. Richard Wagner also played a part in influencing his music.
He became an officer in the Imperial Russian Navy, then a civilian Inspector of Naval Bands. However, he was able to combine his military career with that of composing and teaching. His most famous pupil was Igor Stravinsky. Rimsky-Korsakov held a passion for the sea which influenced two of his orchestral pieces: Sadku – the musical Tableau and Scheherazade.
During the last twenty years of his life he chose to concentrate on opera culminating in the famous The Golden Cockerel.
Having been a sufferer of angina it got to a point in 1907 when he could no longer work, he died the following year at the age of seventy-four.
Fun Fact
During a rehearsal of a Rachmaninoff concert, Rimsky-Korsakov shouted "They are using B flat clarinets!" Rimsky-Korsakov was sat listening at the back of the theatre without a score. However, it was apparent that the score specified clarinets in A, a detail which (almost) no one discovered.
Rimsky-Korsakov Sheet Music Downloads and Further Reading
On music-scores.com we have over twenty arrangements of Rimsky-Korsakov's music including various instrumental versions of Scheherezade Op. 35 and 3rd Movement and The Flight of the Bumble Bee all in PDF Format.
For further reading on this composer why not take a look at Wikipedia and Britannica.