Elgar Sheet Music and Biography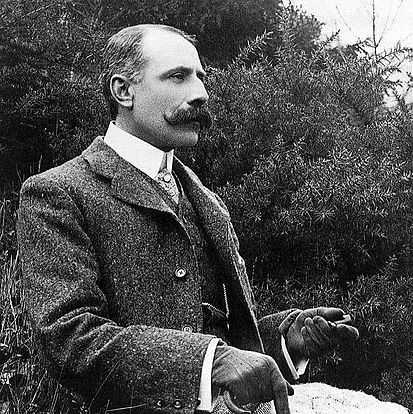 Edward Elgar is probably the most well known English composer.
Why? … Though many of us haven't grown up in very musical households Land of Hope and Glory, The Enigma Variations, and Pomp and Circumstance are all familiar tunes.
Both Land of Hope and Glory will feature once again in the finale of BBC Proms 2022 season – the celebrated Last Night of the Proms.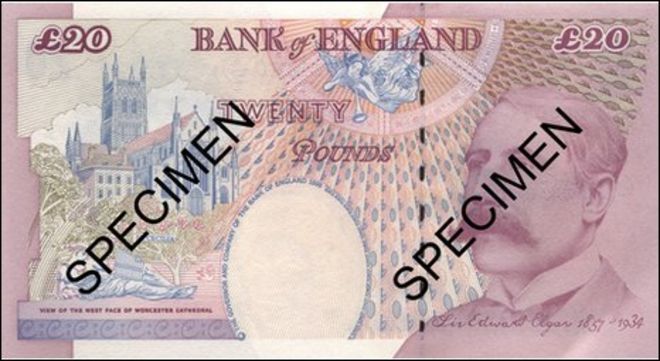 There is also the fact that Edward Elgar lived in the 20th century and his image was on the British twenty pound note until 2010. Some people will also recognise him for his memorable moustache!
See all of our Elgar sheet music selection.
Background
Edward Elgar was born on 2 June 1857 in the small village of Broadheath, just outside Worcester, England. You can visit the cottage where he was born as it houses the Elgar Birthplace Museum.
Elgar's father, William, was a piano tuner who set up a shop selling music scores and musical instruments.  He was also a violinist of a professional standard and held the post of organist at St. Georges Roman Catholic Church, Worcester – it was certainly the right grounding to produce such an amazing composer.
Edward was the fourth of seven children all of whom were given a musical upbringing. He played both the violin and piano.
William sometimes took his son with him to work as a piano tuner. Edward would often play the piano, exposing him to many rich influential people.
Edward and his family loved their music. At the age of ten, he created the music for a play he'd written for the Edgar family. Such was the standard of this that it was used forty years later with only minor tweaks, entitled 'The Wand of Youth'.
Early Life
Edward received a general education as well as local music tuition. He also travelled on brief trips to London and occasionally received formal music lessons. Additionally, he would read lots of books on music theory and manuals on how to play the organ.
Elgar said, "my first music was learnt in the Cathedral … from books borrowed from the music library when I was eight, nine or ten."
His career began in 1872, not as a musician but as a clerk in a solicitors office.  Realising this really wasn't for him, he left. At first he gave violin and piano lessons and also worked in his father's shop …. As you know things definitely progressed from here!
Elgar married Caroline Alice Roberts (known as Alice) in 1886.  Alice was one of Edward's pupils and was 8 years older than him. Her parents didn't approve of their marriage as they considered a musician to be beneath her. Edward was very much in love and wrote many of his songs for Alice including Salut d'Amour which he composed as an Engagement present.  It is such a beautiful piece of music.
Alice was very much behind his creativity being his business manager and social secretary. In her diary, she wrote, "The care of a genius is enough of a life work for any woman." I'm guessing that she was a very patient lady…
After her death in 1920 Elgar's music writing slowed down drastically until his death in 1929. When he died he left several works unfinished including a third symphony, a piano concerto, and an opera.
Interesting Facts
Alice and Edward only had one child who they named Carice Irene. Carice (being a contraction of Caroline and Alice) was born in 1890 at their home in West Kensington.
There are rumours that Elgar had a wandering eye and his love for going to watch Wolverhampton Wanderers play football was not entirely legitimate!
Each part of the Enigma Variations relates to a particular person or animal in Elgar's life. The eleventh variation is supposedly for a friends Bulldog, Dan who fell into the River Wye.
Aside from his music Edward was also an amateur chemist and enjoyed tinkering in his shed.  He actually invented a device for synthesising hydrogen sulphide called 'Elgar Sulphuretted Hydrogen Apparatus' which went into production for a brief time.
King Edward VII awarded Elgar a knighthood in 1904.
Composers and the word hmv don't usually go together in the same sentence, however, Elgar was one of the first composers to become involved with the new technology of recorded music, He regularly met with the people from hmv to make premiere recordings of his work. Read more about the first 100 years of hmv.
Elgar Sheet Music Downloads and Further Reading
At music-scores.com we have nearly 70 arrangements of Edward Elgar sheet music in PDF format for you to download.
If you want to read more about Elgar and his life there are many resources available on the internet. We like both The Elgar Society and The Elgar Foundation.