MacDowell Sheet Music and Biography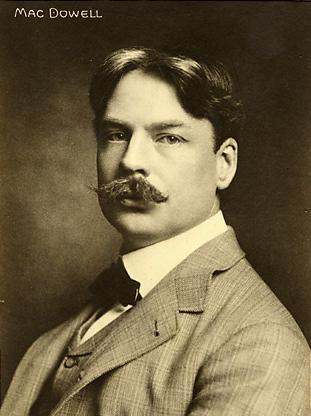 Edward MacDowell (born 18 December 1860) was an American composer and pianist.
His most famous suites were Woodland Sketches, Sea Pieces, and New England Idyls and his most famous piano piece was 'To A Wild Rose' from Woodland Sketches'.
MacDowell also composed four sonatas, two orchestral suites including two piano concertos and a large number of solo piano pieces. Download MacDowell sheet music Woodland Sketches and To A Wild Rose from our site.
We have over fifteen arrangements of MacDowell sheet music.
After a twenty-first century revival, his two concertos are now recognised as the "most important works in the genre by an American composer other than Gershwin."
Early Life
MacDowell was born in New York City, his father was a milk dealer and his mother loved music. She was responsible for guiding her son into music. He received his first music lessons from Colombian violinist Juan Buitrago who was boarding with the family. Following this he received lessons from friends of Buitrago in particularly Venezuelan pianist, Teresa Carreño.
Career
Initially MacDowell studied in New York, then between 1876-78 he gained a scholarship and went to Paris to study at the Paris Conservatoire.
In 1878 Joseph Hoch founded Dr.Hoch's Conservatory in Frankfurt and MacDowell studied here with Joachim Raff the music director. Raff introduced him to Franz Liszt who regularly visited the Conservatory to attend concerts. He was responsible for arranging for him to play his Modern Suite No. 1 at Zürich.
In 1884 MacDowell married his former pupil Marian Nevins in America. Owing to an illness, she was unable to have children. Between 1885-88 the couple settled in Wiesbaden and MacDowell concentrated on studying composition. However, this didn't pay the bills and lead to them suffering financial difficulties. Consequently, they returned to Boston which was central to concert life.
In 1896 Edward was invited to become Head of the Music at Colombia University in New York City and establish the new department. As well as teaching, composing, and performing he directed the Mendelssohn Glee Club until 1898.
Illness in Later Life
After a very publicised dispute with the new president of Columbia University Nicholas Murray Butler, he left in 1904. This caused him a good deal of upset and lead to depression. In same year he was involved in an accident in which he got ran over by a Hansom cab. The accident combined with the stress from his dispute with Murray culminated in ill health and mental instability.
Legacy
MacDowell and his wife founded the MacDowell Colony now known just as MacDowell on their New Hampshire farm in 1907. It was Edward's wish that talented artists of all types should have the same supportive and creative opportunities that he had benefitted from.
Marian looked after Edward until his death in 1908 at the age of just forty-seven.
After his death, Marian published a book of his short poems. (Verses by Edward MacDowell).
MacDowell Sheet Music Downloads and Further Reading
On music-scores.com we have over fifteen arrangements of MacDowell sheet music including various instrumental versions of MacDowells' 'To a Wild Rose', and 'Woodland Sketches' in PDF format for you to download.
For further reading on this composer take a look at Wikipedia and Britannica.