Paganani Sheet Music and Biography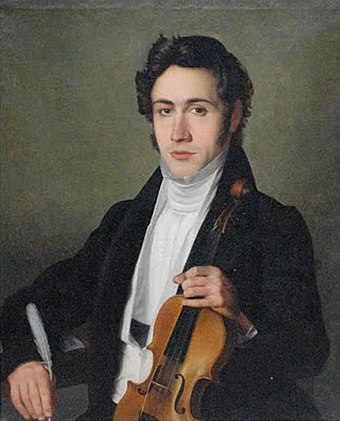 Niccolò Paganini was an Italian violinist, violist, guitarist, and composer. Born in Genoa on 27th October 1782, he was taught by his rather strict father – apparently, if he didn't complete the required number of hours practising he was not allowed to eat!
His most famous works include Opus 1 Caprice for virtuoso violin. We have made a simplified version (still difficult though!) and some variations for other instruments, see our full list.
Biography
At the age of six, he received lessons from some of the best teachers in Genoa, and by 1790, at only eight years old, he performed and composed his first sonata. Touring extensively he became a very well-known violinist and also that of a womanizer and gambler. At one point he even had to pawn his violin.
Despite his womanizing Paganini fell in love with singer Antonia Bianchi and for fifteen years devoted himself to her. They had a son to whom he was very close, often taking him on tour.
Though many composers and musicians have students, Paganini is only known to have one pupil, Camillo Sivori. Achille Simonetti later studied under Sivori so perhaps Paganini's style had some influence on him. Composer Jean Baptiste Arban was certainly influenced by Paganini's violin technique.
During his life, Paganini was no stranger to chronic illnesses and at the age of fifty-seven on 27 May 1840, he died from internal haemorrhaging. Prior to this, he had returned to Paris to set up a Casino which failed and led him to financial ruin, resulting in him selling pretty much everything he owned including his instruments.
Many people believed his mother sold his soul to the devil in exchange for a great career …. consequently after his death the church refused to bury him…. it took his son thirty-six years to finally find him a resting place in Parma.
Here is a YouTube video of Paganini's Caprice no. 24 on One Guitar: –
Paganini Sheet Music Downloads and Further Reading
On music-scores.com we have over thirty-five arrangements for you of Niccolo Paganini Sheet Music in PDF format.
For further information on this composer take a look at Wikipedia and Britannica.