Fauré Sheet Music and Biography
Gabriel Fauré was born on 12 May 1845 in the South of France.
His music influenced many 20th century composers, linking the end of the Romaticism era with the beginning of the modern era.
Some of his best known works are Pavane, Requiem, Sicilienne, nocturnes for piano and the songs "Après un rêve" and "Clair de lune". In total we have over 120 pieces of Fauré sheet music to choose from.
Read more about Fauré's Pavane on our blog post.
Family
Fauré was one of six children, but the only one displaying musical talent.
His father was a schoolmaster and when Fauré was four years old his father took a position at a teacher training college; École Normale d'Instituteurs. Attached to the school was a small Chapel which was very memorable to Fauré and he wrote this about it:
"I grew up, a rather quiet well-behaved child, in an area of great beauty. … But the only thing I remember really clearly is the harmonium in that little chapel. Every time I could get away I ran there – and I regaled myself. … I played atrociously … no method at all, quite without technique, but I do remember that I was happy; and if that is what it means to have a vocation, then it is a very pleasant thing."
Education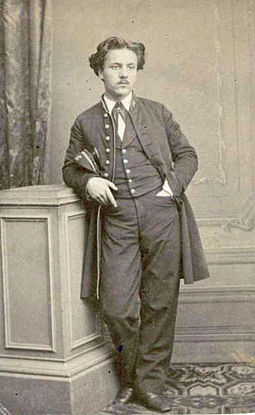 Fauré's talent was recognised at an early age and a principal at a new school of classical and religious music (École Niedermeyer de Paris) offered him a free place, Fauré's father wasn't sure that this was a good idea and it took him a year to decide to send his son. At the age of nine, Fauré went to Paris. He boarded for eleven years with the help of a scholarship. When the owner of the school Louis Niedermeyer died, Camille Saint-Saëns took over and helped Fauré create his own individual style.
In later years Fauré reminisced of his teacher Camille Saint-Saëns.
"After allowing the lessons to run over, he would go to the piano and reveal to us those works of the masters from which the rigorous classical nature of our programme of study kept us at a distance and who, moreover, in those far-off years, were scarcely known. … At the time I was 15 or 16, and from this time dates the almost filial attachment … the immense admiration, the unceasing gratitude I [have] had for him, throughout my life."
Relationships
In 1883 Fauré married and had two sons. However, he spent a lot of time away from home and had various affairs. One of which lasted several years with a lady called Emma Bardac, and it was said that this affair 'inspired a burst of creativity and a new originality to his music'.
In 1900 Fauré met pianist Marguerite Hasselmans whom he continued to see for the rest of his life, often openly, and he kept her in a flat in Paris (no wonder he had to work so hard!). I am guessing there were many more…
Work
After leaving school he took on a couple of positions as an organist (one of which he was sacked from as he turned up in his evening clothes having been out all night!). He also went back to École Niedermeyer de Paris as a teacher in Switzerland due to being temporarily relocated due to the Franco-Prussian War in 1870. On returning to Paris he became a choirmaster.
In 1887 he succeeded in his first violin sonata a Société Nationale concert and this marked a turning point in his career.
Fauré worked incredibly hard throughout his career but stuck to writing incidental music for plays and never a symphony or opera. Hence never obtaining financial stability and unable to give up teaching or the many jobs as an organist. (Fauré actually preferred playing the piano to the organ but the organ provided him with a regular income).
Later Years
In 1905 (aged 60) Fauré took on the prestigious title of Head of Paris Conservatoire. He made some unpopular changes moving away from an old-fashioned old boys network and introducing new external judges and a broader range of music. Obviously, this put a lot of noses out of joint and some members resigned. He taught many famous composers such as Maurice Ravel, Jean Roger-Ducasse, Nadia Boulanger. After fifteen years in the post, he resigned due to his deafness and frailty.
Shortly after this, he was awarded the prestigious Grand-Croix of the Légion d'Honneur, a huge and pretty unusual honour for a musician.
His health deteriorated partially due to his heavy smoking, but he still continued to support his students. He died of pneumonia on 4th Nov 1924 at the age of 79. He was given a state funeral.
Fauré Sheet Music Downloads and Additional Reading
We have over 120 arrangements of Gabriel Fauré sheet music in PDF format for you to download.
For further information on this composer take a look at Wikipedia or Britannica.