Ravel Sheet Music and Biography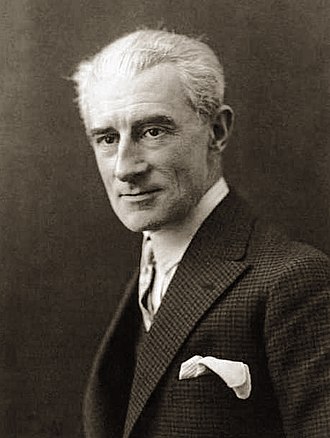 Joseph Maurice Ravel (born 7 March 1875) was a French composer of the twentieth century. Famous for many compositions including the Boléro, Pavanne for a Dead Princess, Prelude Leleu and Daphnis et Chloé you can see all of our Ravel sheet music on our site.
Many of his pieces exist in two forms, primarily the piano followed by an orchestration.
Family
His mother and father had a happy marriage. His father, an educated inventor created many successful inventions and was important in the development of the automobile industry. However, his most remarkable invention was also his worst. The 'Whirlwind of Death' circus ride came to an end with a fatal accident. Joseph's mother had a very different upbringing being illegitimate and unable to read or write.
Early Life & Career
Ravel had his first piano lessons at the age of seven and started studying harmony, composition, and counterpoint at the age of twelve. In 1889 he went to the Paris Conservatoire. He inherited his mother's trait as a free-thinker which no doubt attributed to his expulsion. However, he was readmitted in 1897, when he began to study composition under Gabriel Fauré. Fauré became Ravel's mentor. During his time there Ravel composed some of his famous works including Pavanne for a Dead Princess, Sonatine for piano, and the String Quartet. He made numerous failed attempts to win the Prix de Rome (some of which may have been of his own doing…). However, his final failed attempt did cause a bit of a stir, leading to the resignation of the director whose replacement Gabriel Fauré was given the job of radically reorganising the process.
Later Life
Ravel was an admirer of the compositions emerging from Russia. His father introduced him to Eric Satie whose unique style appealed to Ravel.
He was unsuccessful in his attempt to join the French Air Force in 1914 and had to wait to enlist. During this time he composed Trois Chansons, to influence those who might assist him in getting enlisted. At the age of forty, he finally joined the military as a truck driver often moving munition on the front line. However, he was discharged in 1917.
Ravel never married and lead much of his life as a semi-recluse in his country retreat (with his cats …. more on this later).
In his fifties, he toured the US and Canada then visited England to receive an honorary degree as doctor of music from Oxford.
Ravel's Boléro became even more popular during the 1984 Winter Olympics when winning ice skaters; Jane Torvil and Christopher Dean performed to it. Watch their gold medal winning performance on YouTube.
Cats
Ravel definitely held a soft spot for these creatures. …. Crazy cat man??
We don't know exactly how many cats he had but he definitely owned a family of Siamese. However, he certainly took it to the next level by speaking Cat-ese and understanding it too?!
He even incorporated cats into his music. The Duo Miaule (meowed duet) is available to watch below). It is taken from Ravel's opera L'Enfant et les sortileges (The child and the spells).
Final Years
Ravel's final years (he died 28 December 1937) are rather sad. In October 1932 he encountered a head injury whilst in a taxi. It is likely that this assisted in the development of aphasia. This condition affects your ability to read, write, speak and listen and prevented him from finishing works. After a surgical procedure to ease his condition failed, he went into a coma and died.
Ravel Sheet Music Downloads and Further Reading
On music-scores.com we have over twenty arrangements of Ravel sheet music in PDF format for you to download.
Read more about this composer on The Maurice Ravel Foundation, Wikipedia and Classic FM