Op.50 Pavane by Fauré
Gabriel Fauré composed Op. 50 Pavane for orchestra and chorus in 1887. Anne has recently arranged the simple but beautiful melody of Pavane as a Sextet for Flute, Oboe, Clarinet, Bass Clarinet, Bassoon and Trombone.
Fauré named this piece after a Spanish court dance that was popular in Europe during the Renaissance. Though originally for piano, it's better known as Fauré's orchestral version. He described his composition as being "elegant, assuredly, but not particularly important."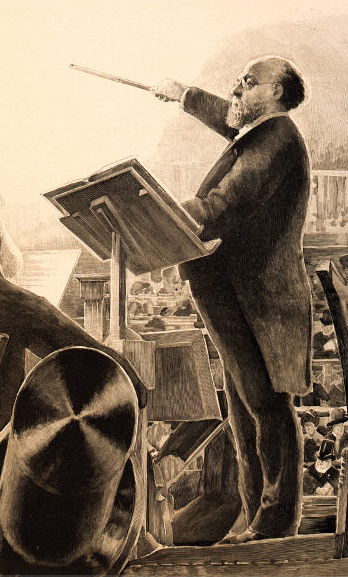 Fauré composed the piece whilst at Le Vésinet, one of the wealthiest suburbs in Paris. He dedicated the composition to his patron, Countess Élisabeth Greffulhe who was a French socialite. Fauré intended the Pavane to be simply orchestral, owever, the Countess persuaded him to add an invisible chorus. The Countess's cousin Robert de Montesquiou wrote the words for the chorus to sing.
The orchestral version of Pavane was first performed on 25 November 1888 at the Société des Nouveaux-Concerts which was also known as Concerts Lamoureux. This was an orchestral concert society which gave weekly concerts by its own orchestra, conducted by its founder, Charles Lamoureux.
Just a few days later the choral version was performed at concert of the Société nationale de musique.
Finally, in 1891 the Countess helped Fauré to produce the version with chorus and dancers. This was for one of her garden parties.
Lyrics
French
C'est Lindor, c'est Tircis et c'est tous nos vainqueurs!
C'est Myrtille, c'est Lydé! Les reines de nos coeurs!
Comme ils sont provocants! Comme ils sont fiers toujours!
Comme on ose régner sur nos sorts et nos jours!

Faites attention! Observez la mesure!
Ô la mortelle injure!
La cadence est moins lente!
Et la chute plus sûre!

Nous rabattrons bien leur caquets!
Nous serons bientôt leurs laquais!
Qu'ils sont laids! Chers minois!
Qu'ils sont fols! (Airs coquets!)

Et c'est toujours de même, et c'est ainsi toujours!
On s'adore! On se hait!
On maudit ses amours!
Adieu Myrtille, Eglé, Chloé, démons moqueurs!
Adieu donc et bons jours aux tyrans de nos coeurs!
English
It's Lindor! it's Tircis! and all our conquerors!
It's Myrtil! it's Lydé! the queens of our hearts!
How provocative they are, how proud they are always!
How they dare reign over our fates and our days!

Pay attention! Observe the measure!
O the deadly insult!
The pace is slower!
And the fall more certain!

We'll tone down their chatter!
Soon we'll be their lackeys!
How ugly they are! Sweet faces!
How crazy they are! Coquettish airs!

And it's always the same! And will be so always!
They love one another! They hate one another!
They curse their loves!
Farewell, Myrtil! Eglé! Chloe! Mocking demons!
Farewell and good days to the tyrants of our hearts!
The Pavane has remained popular to this day. We have over 30 different arrangements on our site including piano, piano and SATB choir and wind quintet for you to download and play.