Sor Sheet Music and Biography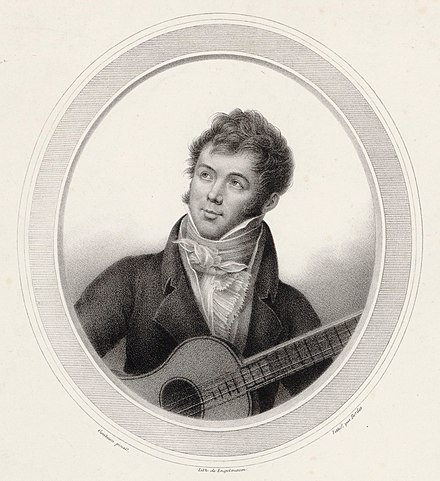 Fernando Sor (bapt.14 Feb 1778) was a Spanish classical guitarist and composer. His name often translates into those of Joseph Fernando Macario Sors, Ferdinand Sor, Ferdinando Sor which causes confusion.
Sor was a virtuoso guitarist playing the slimmer Romantic guitar pre-dating today's Torres version. He was actually the first guitarist to play in a classical concert.
We have over thirty arrangements of Sor sheet music on music-scores.com including Op.35, No.22.
Career
Sor was born into a wealthy family, of military decent, with intentions to follow in the family footsteps and join the army. However, he fell in love with music after a trip with his father to the opera. His ambitions of the army consequently became very diluted.
Sor attended the school of the Barcelona Cathedral. However, on the death of his father, he was forced to leave due to financial pressures. Fortunately, the new abbot at the monastery of Santa Maria de Monserrat heard Sor's talent and funded him to attend the choir school there. His mother had concerns that music was distracting him from the army and at the age of eighteen put him into military school for four years. Fortunately, the army provided Sor with a lot of free time which he dedicated to music. In 1798 he put together his first opera Telemaco nell'isola di Calipso, then moved to Madrid.
On the invasion of Spain by Napolean Bonaparte in 1808, Sor became part of the Spanish military band and likely fought. Following the Spanish defeat, he took a job with the new government in an administrative capacity favouring the new French Revolutionaries over his own. As a result, he left Spain for Paris and never returned.
In 1815 he travelled to London after being unsuccessful in Paris. He remained there until 1823 publishing many works. Given the popularity of ballet, he wrote four, including Cendrillon which proved successful and was later performed in Paris and Moscow. He also wrote thirty-three Italian ariettas whilst in London.
Later Years
After his travels, Sor returned to Paris in 1826. Here he wrote the still popular Méthode pour la guitar (Method for the Spanish Guitar).
He continued to teach and perform until the death of his daughter in 1837 sending him into depression. Two years later he died of tongue and throat cancer at the age of sixty-one.
Spanish Romance – Did Sor write it?
You will certainly be familiar with this beautiful piece of music for the classical guitar. It is written in the style known as Parlour music from the late 19th century in Spain or South America.
It is known by numerous names "Romance Anónimo" (Anonymous Romance), "Estudio en Mi de Rubira" (Study in E by Rubira), "Spanish Romance", "Romance de España", "Romance de Amor", "Romance of the Guitar", "Romanza" and "Romance d'Amour" and probably a few more too!
To add to the confusion the composer is also disputable! Due to its time period various guitar players have associations: Antonio Rubira, David del Castillo, Francisco Tárrega, Fernando Sor, Daniel Fortea, Miguel Llobet, Antonio Cano , Vicente Gómez and Narciso Yepes.
The earliest recording of "Romance" features guitarists Luis and Simon Ramírez. It was made in Madrid between 1897 and 1901 and was titled "Sort-Estudio para Guitarra por S. Ramirez". As the name "Sort" appears in the title it is likely that it refers to Fernando Sor. Sor's surname is sometimes spelt "Sort" or "Sorts".
In 1952 the piece appeared in René Clément's film Jeux Interdits (Forbidden Games). The popularity of the film made the piece famous. Narciso Ypes (1927-1997) is listed as the author of the piece. Similarly, Vicente Gomez (1911–2001) published and performed it in 1941 in the Hollywood movie Blood and Sand assigning authorship of the song to himself.
Sor Sheet Music Downloads and Further Reading
On music-scores.com we have over thirty arrangements of Sor sheet music including instrumental versions of Op.34 and Op.35 No.22 all in PDF format for you to download.
For further reading on this composer take a look at Wikipedia and Britannica.