Smith Sheet Music and Biography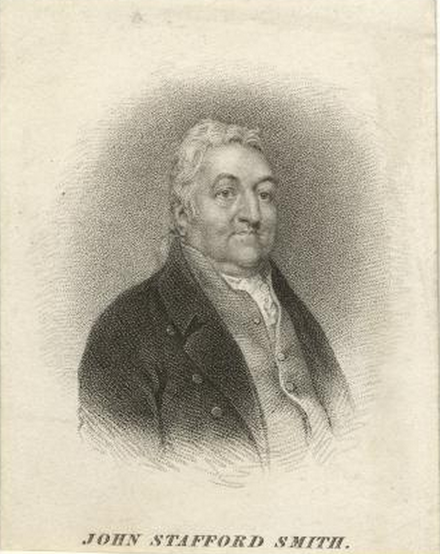 John Stafford Smith (bapt. 30 March 1750) was an English composer of the eighteenth and nineteenth centuries. Would you believe that his identity wasn't discovered until 1970 in the music section of the Library of Congress!
Find Smith sheet music for The Star Spangled Banner on music-scores.com.
Smith is the first English musicologist, publishing a 'Collection of English Song' in 1779.
There is no doubt that Smith's fame is attributed to his music for "The Anacreontic Song'. This later became the melody for the American patriotic song "The Star Spangled Banner' . Then in 1931, it became universally famous when adopted as the American National Anthem.
You can see our John Stafford sheet music collection on our site.
Life and Career
Smith was born in Gloucestershire, England and his father was the organist at Gloucestershire Cathedral for over forty years.
He studied under Dr. William Boyce in London and became associated for many years with the Chapel Royal. Initially starting there as a chorister then a Gentlemen of the Chapel (1784), Organist (1802), and Master of the Children (1805)(responsible for musical education/training). He was also lay vicar at Westminster Abbey from 1765.
In the 1770s Smith became a member of the Anacreontic Society, which was a gentlemen's club of a select group of amateur musicians. He wrote the tune for the song 'To Anacreon in Heaven', the official song of the Anacreontic Society of London. It was an old English drinking song and sung at the beginning of club meetings by all club members. Its popularity extended to the Anacreontic Societies of the United States.
It became the melody for the American patriotic song "The Star Spangled Banner" and in 1931 adopted as the American National Anthem.
Smith died on 21 September 1836 at the age of eighty-six. There is a memorial plaque at Gloucestershire Cathedral commemorating him. It sits below the US and UK flags.
Smith Sheet Music Downloads and Further Reading
On music-scores.com we have over ten arrangements of various instrumental versions of Smith sheet music in PDF format for you to download.
Find more information about this composer at Wikipedia and Britannica.