Satie Sheet Music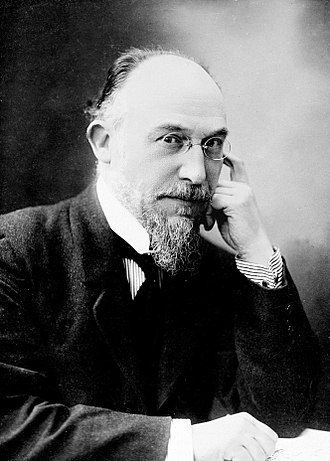 Eric Alfred Leslie Satie is known as a French composer and pianist who was of major influence to twentieth-century music. His fame is also attributed to his unique style which was often flippant, 'out of the ordinary' and humorous.
Music-Scores features several of his well known works. Gnossienne No. 1, No. 2, No. 3, No. 4 and No. 5 arrangements for various instruments, Gymnopédie No.1, No. 2 and No. 3 also arranged for various instruments.
Satie was born in Honfleur 17 May 1866, Normandy, France to Alfred Satie and Jane Leslie. Alfred was a shipbuilder and later a translater and his wife Jane was Scottish and wrote her own pieces for the piano.
Works
Satie is best known for the Trois Gymnopédies. You may recognise Gymnopédie No.1 which has featured in quite a few soundtracks. Parts one and two were composed in 1888 and part three in 1895.
Early Life
A local organist gave Satie his first lessons and at the age of thirteen. He later joined the Paris Conservatoire but this was short-lived. He got dismissed as a lazy and insignificant student and went to work as a pianist at Le Chat Noir Café Cabaret in Montmarte. It was here that his career really began. He didn't become famous until he was forty-five and shortly after the younger generation of musicians started to appreciate his work leading to the formation of the 'Les Six' to which Satie became the patron saint.
Satie never married, and is only known to have had one relationship with the artist Suzanne Voldon whom he proposed to after their first night together… He was devastated when she moved away after six months.
Death
Satie died on the 1st July 1925 at the age of 59 due to his heavy drinking which caused cirrhosis of the liver.
Satie's work was only really appreciated after his death and a decade after he was hailed as a genius.
Satie Sheet Music and Further Reading
On music-scores.com we have 100 pdf format downloads for you of Erik Satie Sheet Music.
For further information on this composer take a look at Wikipedia or Britannica.