Llobet Sheet Music and Biography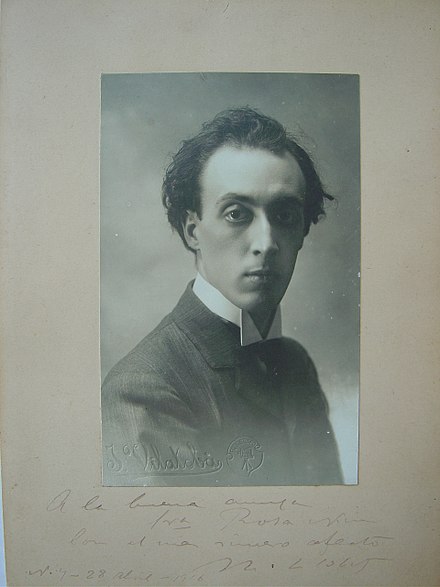 Miguel Llobet was a Spanish composer and guitarist though his fame lies more in playing virtuoso guitar which paved the way for future generations of guitarists.
We feature several arrangements of La Filla del Marxant and El Testament d'Amelia on our site.
You can see our Llobet sheet music collection on the site.
Family and Early Life
Born in Barcelona on 18 October 1878, Llobet studied the guitar and violin from an early age. However, he was a relative late comer to the guitar at the age of eleven. His inspiration to play came after receiving one as a gift from an uncle and hearing Antonio Jiménez Manjó play.
Career
In 1892 he met and played for Francisco Tàrrega then two years later studied with him at the Municipal Conservatory of Music in Barcelona.
Llobet launched his career in 1898 performing concerts with the help of Tarrega's patron, Concepción Jacoby. He later became Llobet's patron. Llobet launched into an international career in 1901 starting with concerts in Valencia, Seville, Malaga, and then Paris in 1904. He moved to Paris in 1905, later touring South America and the Caribbean then basing himself in Buenos Aires before returning to Paris. The outbreak of World War I lead to his relocation back to Buenos Aires. However, it is said that in 1915 he was teaching in Spain particularly noting his most famous pupil Andrés Segovia Torres.
Llobet made the first electrical guitar recordings in 1925.
Throughout his career he toured and taught many musicians. He created arrangements of Isaac Albéniz's piano compositions for the guitar and also popular Catalan folk songs along with his own original compositions.
He had a quiet retirement and sadly died on 22nd February 1938 of pleurisy at the age of fifty-nine.
Llobet Sheet Music Downloads and Further Reading
On music-scores.com we have over ten arrangements of Miguel Llobet sheet music in PDF format for you to download.
For further reading about this composer take a look at Wikipedia and Allmusic.