Reiche Sheet Music and Biography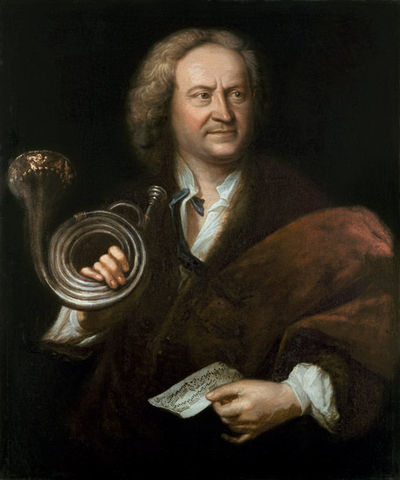 Gottfreid Reiche was a hornist, trumpet player, and composer, born in Germany on 5 February 1667.
His birth town, Weißenfels held a long tradition of trumpet music in its court.
You can download Reiche sheet music for Sonatina in G Minor for Brass Quartet in G Major on music-scores.com
Reiche is probably most famous as J S Bach's chief trumpeter from Bach's arrival in Leipzig in 1723 until Reiche's death in 1734. Bach wrote many trumpet parts to match Reiche's skill and creativity.
The image here is of the famous painting of Reiche on his sixtieth birthday by Elias Gottlob Haussmann. It shows Reiche holding a coiled trumpet, and the music in his left hand is Fanfare Abblasen a short trumpet fanfare attributed to Gottfried Reiche. Some believe that this abblasen was written as a birthday gift to Reiche from Bach. It has been reproduced and performed by many artists and for many years it was the theme true for CBS Sunday Morning, the US TV show.
Career
In 1688 Reiche arrived in Leipzig and became an assistant Stadtpfeifer. By 1706 he had progressed to senior Stadtpfeifer and further advanced to Senior Stadtmusicus in 1717.
Reiche composed 122 Abblasen-Stücken, however only one survived. He also composed "tower music" (Turmmusik).
Reiche died of a stroke whilst walking home on 6 October 1734 in Leipzig
Reiche Sheet Music Downloads and Further Reading
On music-scores.com we have an arrangement of Sonatina in G Minor for Brass Quartet in G Major in PDF format for you to download.
For further reading on this composer take a look at Wikipedia and Bach Cantatas.