Godowsky Sheet Music and Biography
Leopold Godowsky was a well-known Polish-American virtuoso pianist and composer, known in the music world as the "Buddha of the Piano". He was famous for his flair and ingenious techniques of paraphrasing piano pieces by other composers.
We have Exaudet's Minuet No.1 and Lisette No.2 from Airs of the 18th Century featured on our main site.
Life and Works
Godowsky was born in Žasliai, Lithuania (it was Russian territory at the time) on 13th February 1870. He moved to American in his mid-teens, however, he had already achieved a great deal in his short life. By the age of five, he was already demonstrating a flair for the piano and violin and beginning to compose. He gave his first concert at the age of nine and it wasn't too long before he was touring East Prussia and Lithuania. Even more impressive is that Godowsky was pretty much self-taught!
Godowsky's paraphrasing pieces are incredibly challenging and difficult and many pianists do not even attempt them. One of his most famous works is his 53 Studies on Chopin's Études. Other works are 'Renaissance' which is a collection, including arrangements of music by Jean-Philippe Rameau and Jean-Baptiste Lully, along with twelve of Franz Schubert's songs and six manuscripts of JS Bach's music.
Despite the popularity of his paraphrasing Godowsky also composed his own material. In 1927 he composed 'Passacaglia' which includes forty-four variations, cadenza, and fugue on the opening theme of Schubert's 'Unfinished Symphony'. Vladimir Horowitz who is regarded as one of the best pianists of all time claimed amongst others that Passacaglia was unplayable. Another of Godowsky's original compositions was written between 1930-31 which was a collection of pieces for the left hand.
Later Years
Godowsky toured then lived in Europe. He returned to the United States at the outbreak of World War I.
The Wall Street Crash caused him financial problems which accentuated when he had a stroke in 1930 leaving him partially paralysed and unable to earn a living.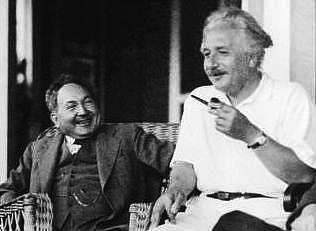 In 1933 he met Albert Einstein and they became good friends. They would play together – Godowsky on piano and Einstein on violin.
On the death of his wife and suicide of one of his son's Gordon Godowsky went to live with his daughter Dagmar. He died of stomach cancer on 21st November 1938.
Did You Know?
Godowsky's son Leopold Godowsky Jnr. was a violinist and chemist. Together with another musician, Leopold Mannes, he invented Kodachrome photo transparency film. Leopold Jnr. married George Gershwin's younger sister Frances.
Godowsky's daughter Dagmar appeared as a co-lead in many Hollywood silent movies.
Godowsky Sheet Music Downloads and Further Reading
On music-scores.com we have a couple of arrangements of Leopold Godowsky sheet music in PDF format for you to download.
You can read more about his life at Bach Cantatas and Radio Swiss Classic.