Palestrina Sheet Music and Biography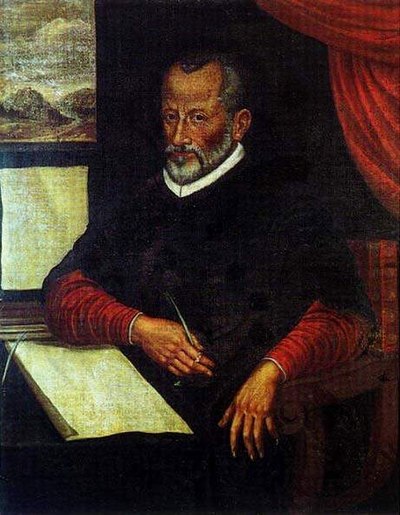 Giovanni Pierluigi da Palestrina (born c1525) was an Italian composer during the Romantic period, born in Palestrina near Rome. He wrote more than one hundred and five masses and two hundred and fifty motets.
His most famous and heavenly mass is 'Missa Papae Marcelli'. It is still regularly sung in Catholic churches all over the world.
Palestrina taught Gregorio Allegri, composer of the popular choral work Miserere.
Try out Palestrina's Agnus Dei for Brass Quartet.
Early Life
Apparently, as a young boy, Palestrina used to sing on the streets of Rome whilst selling produce from his parent's farm. Allegedly the choirmaster of Santa Maria Maggiore was passing by one day and heard him sing, immediately signing him up. He was a choir boy at Santa Maria Maggiore in 1537 and also studied music there between 1537-1539.
1547 he married Lucrezia Gori and they had three sons together.
Career
Between 1544 and 1551 he held the position of organist at Palestrina Cathedral under Bishop Julius III who in 1551 became The Pope. Palestrina published his first book of Masses in 1554, which he dedicated to Bishop Julius III.
In 1551 he was summoned to Rome for his first Papel appointment as chapelmaster of the Cappella at St Peter's. His main responsibility was the music for St Peter's. He served there until 1554 and later in 1571 until his death in 1594.
In 1554 he received a promotion to a singer in the Sistine Choir and also became composer to the Papel Chapel. Unfortunately, for Palestrina, a new Pope was appointed in 1555. He was much less lenient than his predecessor, asking all married members to leave. Palestrina received a small pension in return.
Following other appointments Palestrina took a position at Santa Maria Maggiore for seven years, then, Cardinal Ippolito d'Este put him in charge of Villa d'Este in Tivoli for four years. However, in 1571 the Vatican requested he return for an increase in salary. As his popularity as a composer grew the Santa Maria Maggiore asked him to come back but the Vatican increased his salary further. In 1578 Palestrina received the title of master of music at the Vatican Basilica.
Later Years
In the late 1570s, numerous plagues swept the country taking the lives of Palestrina's wife, two of his sons, and brother. In his grief, Palestrina decided to become a priest. He became a Canon but renounced his vows in 1581 to marry Virginia Dormoli, a wealthy widow. He continued to compose and retain his position at St Peter's.
Palestrina died on 2 February 1594 in his late seventies. His funeral was held at St Peter's and he is buried beneath the floor of the Basilica.
J.S.Bach studied and copied Palestrina's first book of Masses. Felix Mendelssohn placed Palestrina in the Pantheon of musicians along with Beethoven, Bach and Mozart. Italian composers Gregorio Allegri and Giovanni Maria Nanino continued his works.
Palestrina Sheet Music Downloads and Further Reading
On music-scores.com we have an arrangement of Palestrina's Agnus Dei and Veni Sponsa Christi both in PDF format.
For further reading on this composer why not take a look at Wikipedia and Britannica.