Mussorgsky Sheet Music and Biography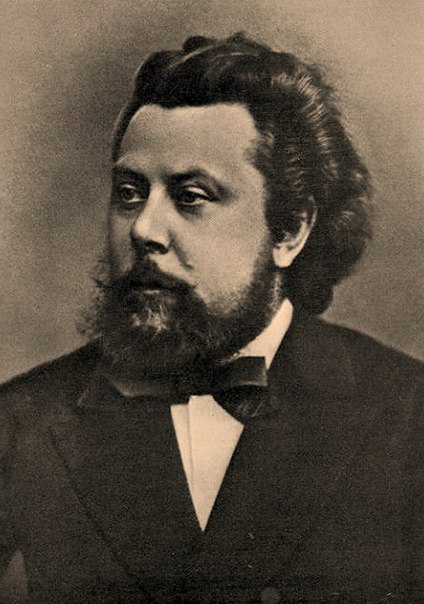 Modest Mussorgsky is a famous Russian composer from the nineteenth century. He was a member of The Five or also known as The Russian Five.
He is famous for his opera 'Boris Godunov' and songs and piano pieces from Pictures from an Exhibition.
His music reflected a Romantic but unique Russian musical identity. He was an inspiration for many future Russian composers.
We have over twenty arrangements of Mussorgsky sheet music
Early Life
Modest Mussorgsky was born into a wealthy family, his mother, herself a trained pianist gave him his first piano lessons. By the age of seven, he was able to play some of Franz Liszt's easier pieces.
Mussorgsky's father took both him and his brother to St Petersburg at the age of ten to attend Peters-Paul school in preparation to join the military, feeling that this was the career for them. Despite discovering music at an early age Mussorgsky's musical career actually only started in the army. During his service, he met fellow composer and member of The Five, Alexander Borodin. Both men worked together in the military hospital and became good friends.
Modest's mother died in 1865 when he was thirty-six. He subsequently moved in with his brother, then later shared a flat with fellow musician Nikolai Rimsky-Korsakov. When Nikolai married in 1872 Mussorgsky turned to alcohol.
Career
Mussorgsky impressed the famous Russian composer Alexander Dargomyzhsky with his piano playing and was requested to play at his soirees. It was here that he met many influential and important figures including Stasov, Mily Balakirev, and César Cui (the latter two, later becoming part of 'The Five'). Balakirev became Mussorgsky's teacher and was responsible for expanding his musical knowledge from that of a pianist to a composer.
He took inspiration from Russian folklore and history. His opera Boris Godunov portrayed the life of a Russian tsar and was based on the play by Russia's most famous poet Alexander Pushkin.
Works
In 1866 Mussorgsky wrote a series of songs 'Darling Savishna', 'Hopak,' and 'The Seminarist, based on normal people. Following this he wrote the tone poem 'Ivanova noch na Lysoy gore' (1867; Night on Bald Mountain). This was later used in the 1940 animated Fantasia film.
The original version of his most famous opera 'Boris Godunov', written in 1869 was rejected and consequently modified in 1872. Its first performance was in St. Peterburg in 1874. Many composers made revisions to the piece including Rimsky-Korsakov.
He completed his other major work, Khovanshchina (1880), prior to his death in 1881. Again it was Rimsky-Korsakov revised and scored the opera using the composers' notes.
'Boris Godunov' premiered in Europe in 1908 changing European perceptions of the composer who was previously regarded as 'eccentric from the west'.
Michael Jackson's single HIStory (1995) includes samples of multiple musical compositions and historical audio quotes and includes "The Great Gate of Kiev" from Mussorgsky's Pictures at an Exhibition.
Later Life
Alcohol consumed the final years of Mussorgsky's life. In February 1881 he had three consecutive fits of alcoholic epilepsy and within a month he died in St. Peterburg aged just forty-two.
Mussorgsky Sheet Music Downloads and Further Reading
On music-scores.com we have over twenty arrangements of Mussorgsky sheet music in PDF format for you to download.
Read more about this Russian composer at Favourite Classical Composers, Wikipedia and Britannica.