Debussy Sheet Music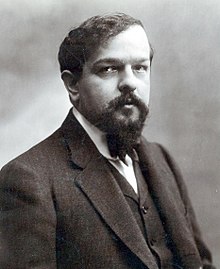 Claude Debussy was a French composer born on 22 August 1862. He was one of the most influential composers of the late nineteenth and early twentieth century.
You can download many of Debussy's popular classical sheet music pieces such as Arabesque No.1, La Fille aux Cheveux de Lin, Reverie and Suite Bergamasque 03 Clair de Lune.
He wasn't born into a wealthy household. It was his incredible talent alone that enabled him to get into the Conservatoire de Paris at the age of ten.
Fast Facts
Debussy started playing the piano at the age of seven and it was obvious by the age of nine that he had a gift.
Many composers come from musical backgrounds however his mother was a seamstress and his father owned a china shop.
He is often referred to as a Symbolist and Impressionist composer however he strongly disagreed with this.
In 1884 Debussy won the prestigious Prix de Rome which entailed a four-year residency at the Académie de France in Rome at Villa Medici. He was very unhappy there and at times was unable to compose.
He is described by many as being one of the most influential composers of the late 19th and early 20th century.
Debussy met Russian composer Rebikov.
Debussy was a bit of a 'player' with the ladies as most of his relationships started before the previous one had ended!
During the later stages of his life Debussy had an alter ego called Monsieur Croche. He expressed his cutting views of composers, audiences, institutions and musical politics. After his death this collation of articles was published into a book. This was something Debussy had planned to do himself.
He died aged 55 on the 5th March 2018 of colorectal cancer. It was four days after the first shots were fired at the Battle of the Somme so on the day of the funeral the streets of Paris were empty as the Germans invaded.
Debussy Quotes
"Music is the silence between the notes".
"We must agree that the beauty of a work of art will always remain a mystery […] we can never be absolutely sure 'how it's made.' We must at all costs preserve this magic which is peculiar to music and to which music, by its nature, is of all the arts the most receptive."
About Chopin "the greatest of them all, for through the piano he discovered everything."
"Debussy's great service to music was to reawaken among all musicians an awareness of harmony and its possibilities". Bartok
Works
Clair de Lune is one of Debussy's most famous works, so beautiful and relaxing. It certainly takes you to a serene place, cementing the association with the label of an impressionist composer. Click on the link below to listen.
Other famous pieces include Prélude à L'après-midi d'un faune; La Mer, La Cathédrale engloutie, Syrinx, Sonata for flute, viola and harp and there are many more.
Debussy died aged fifty-five of colorectal cancer on 25 March 1918.
Debussy Sheet Music Downloads and Further Reading
We have over ninety arrangements for you of Claude Debussy sheet music in PDF format for you to download.
For further information on Claude Debussy visit Wikipedia and Biography.