Cimarosa Sheet Music and Biography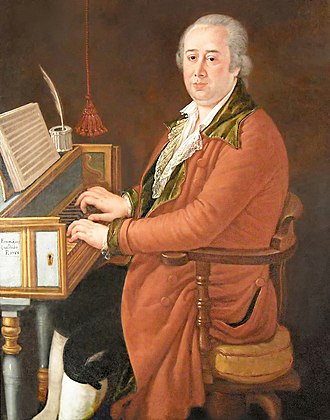 Domenico Cimarosa was an Italian composer of both comic and serious operas during the Classical period.
Cimarosa sheet music featured on our site includes Oboe Concerto 1st mvt Larghetto and Oboe Concerto 4th mvt Allegro giusto.
His family was not wealthy and moved to Naples to enable Domenico to go to a free school. His father worked in construction and sadly died in a scaffolding accident when Cimarosa was only seven years old. Anna, his mother then took on a position in a monastery which enabled Cimarosa to gain a good education and musical training from the monks.
Career
Cimarosa started his career in Naples and then he travelled around performing both serious and comic operas. He took the position offered to him by Empress Catherine II to become Court Musician in St. Petersburg. Despite his successes, he was not as popular as his predecessors and left Russia in 1791. King Leopold II then invited him to go to Vienna. It was here that he wrote his masterpiece Il matrimonio segreto (The Secret Marriage). His works received great reviews on his return to Italy following the death of King Leopold.
Cimarosa became known internationally and his works performed in the opera houses around Europe.
During the Republican occupation of Naples Cimarosa openly supported the Republicans. As a consequence of the restoration of the monarchy, he found himself imprisoned, very, fortunately, escaping the death sentence. Consequently, Cimarosa moved to Venice having being exiled from Naples. Sadly by this time he was terminally ill and died aged fifty-one.
Discoveries
In the 1920s there was a discovery of a number of his piano sonatas in manuscripts, which many agreed actually went together as three-movement works. Referred to as Cimarosa concerto for Oboe they are in fact a mix of the sonata's created of arrangements of movements.
Cimarosa Sheet Music Downloads and Further Reading
We currently have 14 arrangements of Domenico Cimarosa Sheet Music on music-scores.com in PDF format for you to download. Read more about this composer on Wikipedia and Britannica.