Chapí Sheet Music and Biography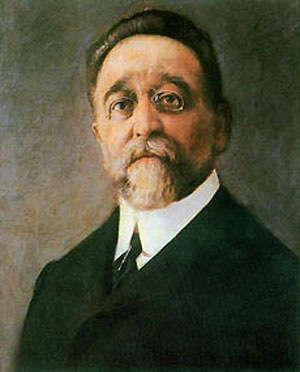 Ruperto Chapí was born on 27th March 1851 in Villena near Alicante, Spain. His father was a barber.
At music-scores.com we have a few arrangements for you of Serenata from Fantasia Morisca, also known as La Corte de Granada. This is a one-act opera and was first performed in 1881.
A composer famous for his abundance of zarzuelas – he wrote over one hundred! He didn't stop there and wrote many operas, symphonic, band, choral, and chamber works.
Early years
Growing up in Valencia, Chapí became involved in band music from a young age. At first, playing the piccolo, then becoming a composer and arranger by the age of nine. At sixteen he went to Madrid to join the Conservatory where he studied harmony and composition.
He won first prize in composition in 1872 which then led to him gaining a commission from Teatro Real for an opera, Las naves de Cortés. Following that he was offered a scholarship to the Paris Conservatoire.
Career
Returning to Madrid in 1878 Chapí enjoyed a successful career writing many operas and zarzuelas. He refused to join the Academia de Bellas Artes as he was unhappy with the lack of respect for artists' rights and went on to co-found the Spanish Society of Authors and Publishers.
Chapí died on 25th March 1909 having been taken ill whilst conducting his last opera in the Teatro Real a couple of days earlier.
Chapí Sheet Music Downloads and Further Reading
On music-scores.com we have a couple of pieces of Ruperto Chapí sheet music in PDF format for you to download.
For further information on this composer take a look at Wikipedia. You can also read about some more composers from Spain on our post.