Introduction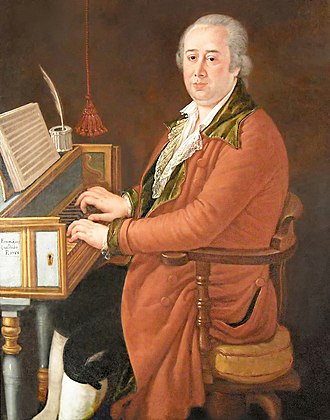 Domenico Cimarosa was an Italian composer of both comic and serious operas during the Classical period.
His family were not wealthy and moved to Naples to enable Domenico to go to a free school. His father was in construction and sadly died when he was only seven in a scaffolding accident. Anna, his mother then took on a position in a monastery which enabled Cimarosa to gain a good education and musical training from the monks.
Career
Cimarosa started his career in Naples and then he travelled around performing both serious and comic operas. He took the position offered to him by Empress Catherine II to become Court Musician in St. Petersburg. Despite his successes he was not as popular as his predecessors and left Russia in 1791. King Leopold II then invited his to go to Vienna. It was here that he wrote his masterpiece Il matrimonio segreto (The Secret Marriage). He returned to Italy after King Leopold's death. Il matrimonio and his other works were greatly received.
Cimarosa became known internationally and his works were performed in the opera houses around Europe.
During the Republican occupation of Naples Cimarosa openly shared his support to them, consequently when the monarchy was restored he was imprisoned. He escaped the death sentence and was said to have been poisoned which was never proven. He was exiled from Naples and went to Venice – at which point he was terminally ill and died aged fifty one.
Discoveries & Musical Downloads
In the 1920's a number of piano sonata's written in manuscript were discovered. It is thought that many of these went together as three-movement works. The works referred to as Cimarosa concerto for Oboe are in fact a mix of the sonata's made of arrangements of movements. We have over ten arrangements of Domenico Cimarosa Sheet Music on music-scores.com
Further Reading
For further information take a look at Wikipedia and Britannica.