Bizet Sheet Music and Biography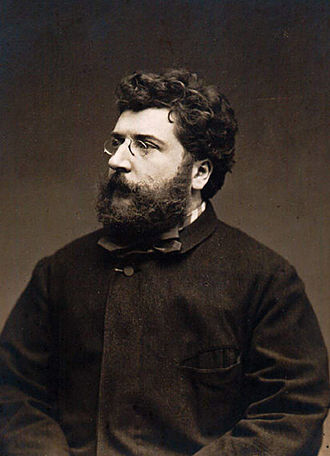 Georges Bizet was a French Romantic composer born in Paris on 25th October 1838. His most famed composition was the opera Carmen which he wrote in his last years. We have several arrangements of his Habanera from the opera for different instruments such as clarinet or violin. See all of our Bizet sheet music.
He was an only child. His father, Adolphe was a singing teacher, and his mother was a pianist who was Georges's first music teacher.
Education and Life
Bizet was offered a place at the Paris Conservatoire at the age of nine, evading the minimum age requirement of ten. Here he won many awards for the piano and also achieved joint first prize in an opera competition organised by Jacques Offenbach. Afterward, he regularly got invited to Offenbach's parties where he met Gioachimo Rossini whose music he admired.
Charles Gounod influenced Bizet's music and his first symphony at the age of seventeen showed similarities to Gounod's work. He became friends with Camille Saint Saëns who was another of Gounod's students.
After winning the Prix de Rome in 1857 Bizet gained a financial grant for five years spending his time in Rome, Germany, and Paris.
In 1869 he married Geniève Halévy and they had one son, Jacques.
Bizet was a heavy smoker and died of a heart attack at the age of just thirty-six. After his death, most of his works were abandoned.
Interesting Facts
Bizet's father was a hairdresser and wigmaker before becoming a singing teacher, to which he possessed no formal qualifications.
At a dinner party, Bizet sight-read one of Liszt's most difficult piano pieces. Liszt said 'I thought there were only two men able to surmount the difficulties…. there are three, and .. the youngest is perhaps the boldest and most brilliant.'
Bizet served in the National Guard during the Franco-Prussian War of 1870-71.
His production of Carmen attracted accusations of plagiarism from Gounod.
Bizet Sheet Music Downloads and Further Reading
On music-scores.com we have over almost 40 different arrangements of Georges Bizet Sheet Music in PDF format for you to download.
For further information take a look at Wikipedia or Britannica.