Rossini Sheet Music and Biography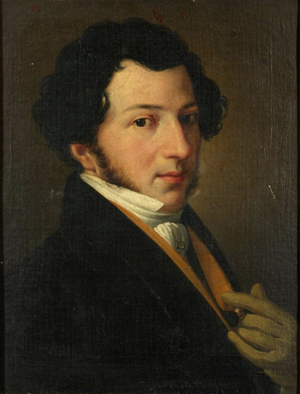 Gioachino Rossini (born 29th February 1792 Italy) had a musical background and educated at a music school. His mother was a singer and his father played the horn and trumpet.
We have featured sheet music from the William Tell Overture theme and Largo al Factotum from the Opera Figaro on the site.
It is no surprise that Rossini started to compose music at the age of twelve and by the age of fifteen, he was playing the violin, horn, and harpsichord and sometimes sang in the theatre to earn extra money.
Unlike many teenagers, he didn't have any dilemma of his future career on leaving education!!
However, it wasn't all plain sailing. In 1790 Gioachino's father became imprisoned for his defiance of the local authorities regarding his position as town trumpeter. Then again in 1799 and 1800 for republican activism and support of the troops of Napoleon against the Pope's Austrian backers. Gioachino inherited his father's outspokenness and spirit.
Gioachino was friends with composer and cellist Gaetano Braga who dedicated his piece 'The Adventurers' to his friend.
Works by Rossini
Rossini's works reflected his personality; famed for comic operas. The performance of his first opera La Cambiale di Matrimonio in 1810 in Venice received some success. Amongst his best-known works were The Barber of Seville (1816), Cinderella (1817), and Semiramide (1823). Later he wrote larger-scale dramatic operas. The grand French Opera William Tell (1829) is his most famous and longest opera lasting 3 hours 45 minutes. It was at this point that Rossini decided to stop writing operas.
Rossini musical style transformed the content and shape of Italian opera and he influenced many other composers such as Wagner, Flotow, Offenbach and Verdi.
Gaetano Donizetti the Italian Composer remarks on the opera William Tell saying:-
'the first and last acts of the opera were written by Rossini, but the middle act was written by God'.
However, it appears that during the last forty years of his life Rossini wrote very little music and his productivity of thirty-nine operas was in his early life – his first opera having been performed when he was only eighteen!
Marriage
In 1815 the Spanish diva opera singer Isabella Colbran's performed her first Rossini opera, Elisabetta, regina d'Inghilterra which was a resounding success. Rossini was very much an admirer of Colbran and soon fell in love with her and they married in 1822. After they both retired they separated and Rossini re-married Olympe Pelissier in 1848.
Later Life
No one really knows why Rossini retired – various theories include financial stability, varying illnesses and mental exhaustion by his operatic life.

This story made me smile as Rossini obviously never lost his sense of humour …For his 70th Birthday Rossini's composer friends generously put together for a huge statue in his honour….. Despite being very touched by the gesture on the discovery of the huge cost Rossini humorously said; "Why not give the money to me, and I'll stand on the pedestal myself?"
Rossini died at his villa in Passy on November 13, 1868, following a short illness.
Rossini Sheet Music and Further Reading
On music-scores.com we have some arrangements for you of Gioachimo Rossini Sheet Music.
For further information on this composer take a look at Wikipedia or Britannica.