Strauss Junior Sheet Music and Biography
Johann Strauss Junior was the eldest son of Johann Strauss and known as the 'Waltz King'.
On music scores we have Johann Strauss Junior Sheet music including Perpetuum mobile, the Blue Danube, plus Pizzicato Polka and Op.410 Fruhlingsstimmen,(the latter two arranged by K Krantz).
His father never wanted his son to become a musician favouring the banking profession to protect him from the hardships associated with being a musician. When Strauss Senior discovered that his son was secretly studying and practising the violin with his own first violinist he gave him a harsh whipping, stating that he was going to beat the music out of him.  It was only when Strauss Senior left his family for another woman that Strauss Junior was able to concentrate fully on his musical career supported by his mother.
At the age of nineteen, he conducted his own dance band at a restaurant, and once his father died he combined his own band with that of his father's and toured very successfully.
Family
In 1862 he married his first wife Henrietta Treffz until she died in 1868, six weeks later he re-married but this didn't turn out as planned and Strauss ended up changing his religion to enable him to get a divorce. His third and final wife Adele Deutch encouraged his talent and they remained together. He didn't have any children to pass his talent onto.
Works
Strauss Junior composed over five hundred pieces and over one hundred and fifty of these were waltzes.
In 1867 Strauss II's composed his most famous work; the Blue Danube
Another of his pieces; Perpetuum Mobile is perceived as a musical joke, a glorious romp through many simple and silly 8 bar phrases over a 2 chord accompaniment. It featured as one of the pieces in Tom and Jerry's 'Johann Mouse'. It is 5 minutes long, however, as with Perpetuum mobile pieces, it can be as long as you want it to be, and repeated over and over again.
When you view the sheet music for Perpetuum Mobile it looks like an explosion of notes on the page.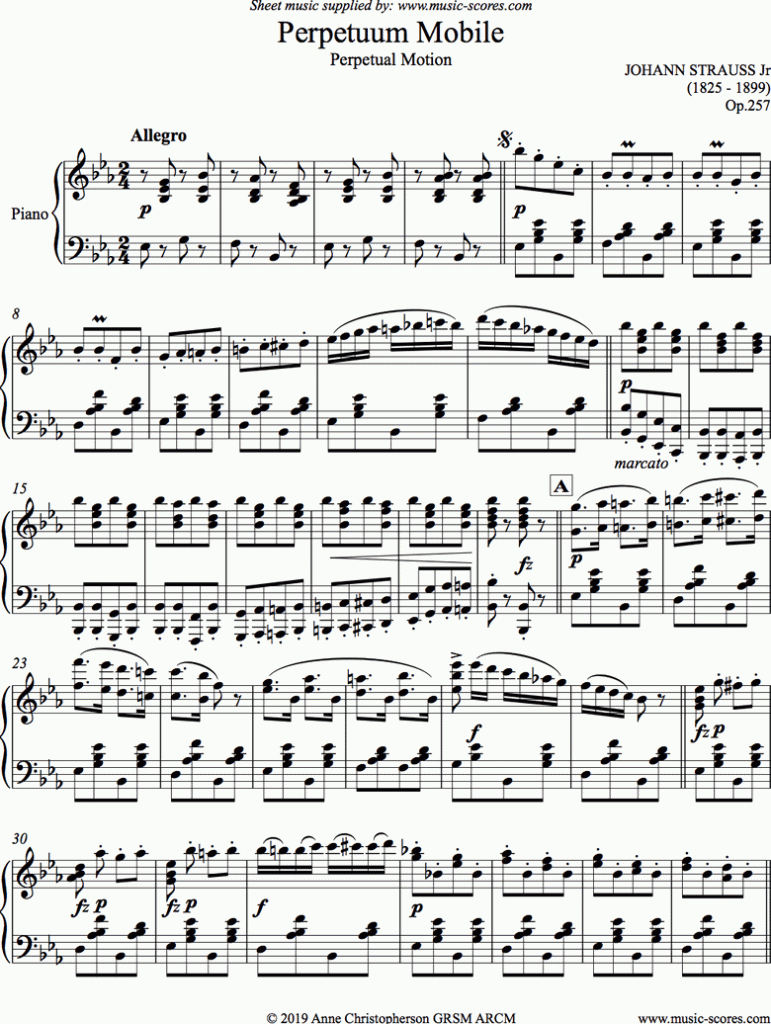 Perpetuum mobile is:
* Fast moving instrumental music consisting mainly of notes of equal length
* Music played in a repetitious fashion, often an undefined number of times
Strauss Junior Sheet Music Downloads and Further Reading
On music-scores.com we have over twenty arrangements for you of Johann Strauss Junior Sheet Music.
For further information on this composer take a look at Wikipedia or Britannica.