Schumann Sheet Music and Biography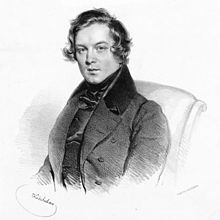 Robert Schumann was a German romantic composer known for his piano and orchestral music and songs. His music often represented the different sides to his personality.
He was born to wealthy parents Johanna Christiane Schnabel and August Schumann – a bookseller and publisher.
We have over eighty sheet music downloads of Robert Schumann's compositions.
Early Life
Schumann started studying the piano aged six.
Aged seventeen he was became under the influence of Jean Paul Richter, the German poet and Austrian composer Franz Schubert . (In later years Schumann became confused with Schubert by name not for his music. (See Fun Facts).
Schumann's family wanted him to become a lawyer. On leaving school he went to study law at the University of Liepzig but instead of studying law he spent his time studying song composition, improvisation of the piano and novels.
Marriage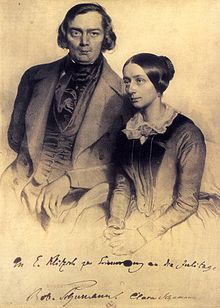 Schumann studied the piano seriously with Friedrich Wieck and consequently became acquainted with his daughter Clara who was beginning her successful concert career. Sadly Wieck disapproved of the relationship to the point that a malicious legal battle ensued. Robert and Clara finally married in 1840 and had a lifelong partnership together. Schumann wrote a lot of his music for Clara Schumann who was a pianist.
The stress of the fight with Wiek caused Schumann to start drinking and smoking heavily and he suffered his first signs of depression and manic behaviour.
Fun Facts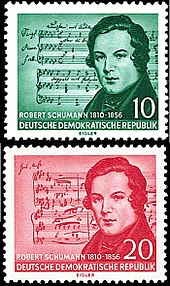 In 1956 the East German authorities issued a stamp featuring an image of Schumann accompanied by a score of Schubert's music. They promptly corrected their mistake by issuing a new stamp.
2. Schumann became a composer but originally wanted to become a pianist, he even constructed a gadget using a cigar box and some wire which was supposed to support his fingers while practicing. This was intended to strengthen the fingers and develop independence. However, two fingers on his right hand were permanently injured, so his career as a pianist was over. Luckily he did not need to become a virtuoso because he married one instead
3. His writing continued throughout his life and he became a music critic in the 1830's and 40's.
4. He didn't talk much, known for walking through the country side with friends in silence.
5. Being a father meant the world to Schumann – he played, walked and read to his seven children. He even wrote a piano piece 'Kinderszenen' (Scenes from Childhood) Op.15 which was devised for adults to reflect on their childhood. 'Child Falling Asleep' and 'The Poet Speaks' completed this collection.
6. Robert and Clara were very good friends with Johannes Brahms.
Works
His music influenced many composers including Wagner, Brahms, Liszt and Elgar and Fauré. Schumann like to tell a story through his music.
During the 1930's he wrote a large amount of piano music including Papillons, Carnaval and Davidsbündlertänze. He then spent a year writing songs before moving onto Chamber music writing three string quartets, a piano quartet and a piano quintet of amazing quality. Next he moved onto larger works such as choral works including the opera Genoveva and four symphonies.
Some of his best known works include, Symphonic studies, Carnaval, Kinderszenen Kreisleriana.
Later Years
Schumann later years were not enjoyable, he continued to suffer with mental illness and it progressed. In 1954 (aged forty four) he heard angelic voices which converted into tiger/hyena noises. Shortly after this he tried to commit suicide by throwing himself off a bridge into the Rhine, but he was saved by a fisherman. He was then placed in a sanatorium for his own and Clara's safety. Clara was unable to visit until the days before his death in 1856 when he contracted pneumonia aged just forty six.
Further Reading & Musical Downloads
On music-scores.com we have over eighty downloads for you of Robert Schumann's compositions. For further information take a look at Wikipedia or Britannica.