Rameau Sheet Music and Biography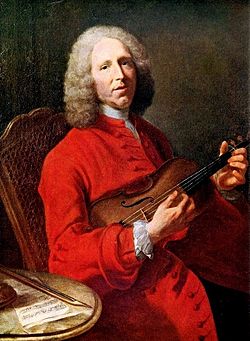 Jean-Philippe Rameau (born 25 September 1683) was a French composer of the Baroque period. He is best known for his harpsichord music and pieces for the theatre covering all genres.
His most famous pieces include Gavotte, Hippolyte Et Aricie; Castor Et Pollux; Les Cyclopes, Les Indes Galantes; La Triumphante and La Poule.
On music-scores.com we have a small selection of arrangements of Rameau sheet music including Le Rappel des Oiseaux and Gavotte from an unknown suite.
Family
Rameau started learning music as a young boy and is said to have been able to play the harpsichord before he could read or write.
His father was an organist who played in many of the churches in Dijon. He did not want his son to follow a musical career favouring that of a lawyer, however, Rameau's academic abilities were never going to see him fulfil his father's ambition and a career in music was in the making. His mother was a notary and had eleven children.
Life and Career
At the age of eighteen, Rameau went to Milan, however, he soon returned to France to play in provincial cathedrals and as a violinist with travelling musicians. He ventured onto Paris, however, he did not receive immediate success despite writing the first of his three books for the harpsichord; Premier livre de pièces de clavecin. This work reflected the influence of the French organist Louis Marchand who Rameau deeply respected.
In this early thirties, Rameau signed a twenty-nine-year contract to be organist at the Cathedral in Clermont. During his time here he set about learning musical theory and became a leading musical theorist. However, taking this position was an impulsive decision, and one he would later regret. Consequently, he used a few displeasing tactics in order to be released from his contract.
He settled in Paris in 1722 when his career finally took off after the publication of Traité De L'harmonie.
He also wrote books of harpsichord pieces including La Villageoise, La Joyeuse, Les Cyclopes and La Triumphante – all proving really popular.
In 1726 he married one of his most talented pupils Marie-Louise Mangot with whom he had four children.
It wasn't all success for Rameau. He tried repeatedly to gain an organist post in Paris and finally gave up his endeavour after losing out to Louis-Claude Daquin for the position of organist at St Paul's.
Later Years
Rameau was in his fifties when he produced his first opera – Hippolcyte Et Aricie. It was very popular.
He was Maître de musique for the wealthy financier, Alexandre Jean Joseph Le Riche de La Pouplinière between 1735 and 1753 gaining him financial support and access to Paris's wealthy artists and to the courts.
Rival composer Jean-Joseph Mouret was jealous of Rameau and this obsession led to Mouret's madness.
In 1745 he received commissions from the courts for various important events including battle victories and weddings associated with the royal house. He wrote Platus his most important comic opera along with two ballets which were collaborations with Voltaire; Le temple de la gloire and La Princesse de Navarre. The former was an opera-ballet and the latter a comedy-ballet. These successes gained him both the title Compositeur du Cabinet du Roi (Composer of the King's cabinet) and a substantial pension.
Rameau was very much involved in the infamous Querelle des Bouffons (War of the Comedians), split into two fractions between French and Italian opera. Jean-Jacques Rousseau was a big supporter of Italian opera whilst Jean-Philippe Rameau supported French.
Rameau died in Paris on September 12, 1764, just prior to his eighty-first birthday. His body rests in St Eustache, Ile de France.
His autobiography 'Confessions' was published after his death and is considered to be one of the first significant autobiographies to have been written.
Rameau Sheet Music Downloads and Further Reading
On music-scores.com we have a small selection of Rameau sheet music in PDF format for you to download.
For further reading on this composer take a look at Wikipedia and Britannica.