Alessandro Marcello Sheet Music and Biography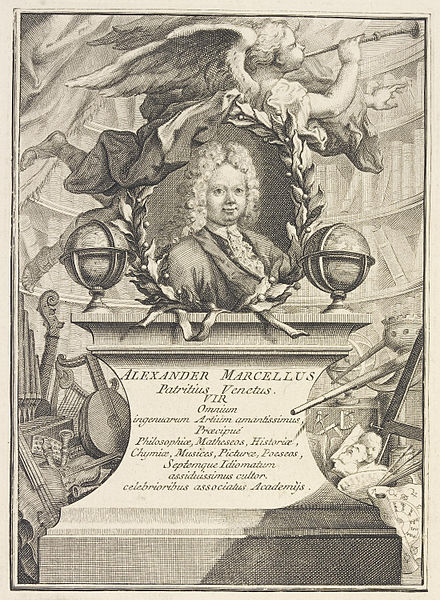 Alessandro Marcello was an Italian composer and nobleman. Have a go at his Larghetto Affettuoso featured on our site.
Family
Marcello was born on 1st Feb 1673 into a Venetian noble family.
His father was a senator and his younger brother Benedetto Marcello also became a composer. He lived a very comfortable life with a superficial interest in art. Like his younger Benedetto, he studied law and was a member of the council.
Career
Though his brother Benedetto was more famous than himself, it doesn't take away the fact that Alessandro was still an accomplished composer. He published the large majority of his works under the pseudonym 'Eterio Stinfalico'.
In 1698 Marcello joined the Accademia degli Animosi and later became a diplomat in the Levant and Peloponnese. After returning to Venice he accepted various judicial positions whilst dipping his toe into numerous creative appointments including painting.
Marcello performed concerts in Venice and composed numerous concertos, including six sets under the title of La Cetra. However, his musical output was reasonably small. In addition to his concertos, he published chamber cantatas, violin sonatas, as well as several arias and canzonets.
Around 1717 he published his concerto in D minor for oboe, strings, and basso continio. Unfortunately, it was accredited to Antonio Vivaldi or Alessandro's brother Benedetto Marcello until the mid-twentieth century. In addition, Johann Sebastian Bach transcribed the piece for solo harpsichord in D minor (BMV974).
Marcello died at the age of seventy-four in Padua, Venice on 19 June 1747.
Marcello Sheet Music Downloads and Further Reading
On music-scores.com we have a few arrangements of Marcello sheet music in PDF format for you to download.
Take a look at Wikipedia and Naxos for further information about this composer.