Mascagni Sheet Music and Biography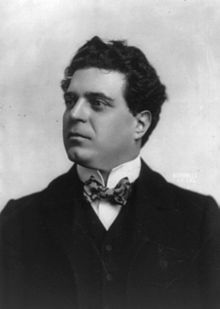 Pietro Mascagni is a famous Italian operatic composer born on 7 December 1863. He is best-known for his masterpiece Cavalleria Rusticana (and also his full head of hair!).
Take at look at our sheet music collection of Pietro Mascagni's Cavalleria Rusticana: Easter Hymn and Intermezzo on our site.
We have thirty arrangements of Pietro Mascagni's sheet music
Early Life
Pietro's father was the owner of a bakery and was against his son following a career in music. Thankfully, Pietro's passion overcame his father's wants.
At the age of thirteen, Mascagni began studying with the founder of the Instituto Musicale di Loverno/Istituto Cherubini, Alfredo Soffredini. Three years later he was writing his own works and in that same year produced numerous works including 'Sinfonia in do minore', 'Elegia', 'Prima sinfonia in fa maggiore', 'Kyrie', 'Ave Maria' and 'Gloria'.
His first cantata 'In Filanda', was premiered in 1881 and went on to win a musical contest in Milan.
Career
Mascagni went to study at the Conservatorio di Milano. However, he found the discipline of his teacher Amilcare Ponchielli a bit much to adhere to. (Mascagni was known for his outspokenness and inability to listen). As a consequence, he left in 1884 before graduating to become a conductor with a travelling opera company. He followed this career for six years barely scraping a living together.
Cavalleria Rusticana
Consequently, Mascagni's money problems enticed him into entering the Sonzogno competition. As a result of this, Mascagni wrote a masterpiece. It took him two months to write Cavalleria Rusticana which he based on a Sicilian romantic drama by Giovanni Verga. Once ready for submission, he lost his nerve and put it in a drawer! Thankfully, his wife discovered it and unbeknown to him, submitted it.
Cavalleria Rusticana won the Sonzogno publisher prize for the best opera of 1890. The opera's premiere in Rome experienced incredible success, having no less than sixty curtain calls. Following this, it went on to to be performed all over Europe. The King of Italy even granted Mascagni the prestigious honour of the Order of the Crown of Italy, an award Giuseppe Verdi didn't achieve until middle age!
The Intermezzo part of the opera is one of the most loved tunes in the history of opera.
Despite writing and producing other operas, nothing ever came close to the success of Cavalleria Rusticana. Quite surprisingly, Mascagni died almost penniless.
Final Years
At the end of his life, Mascagni is quoted as saying, "It is a pity I wrote Cavalleria first, for I was crowned before I became king."
He died on 2 August 1945 at the age of eighty-one in Rome.
Mascagni Sheet Music Downloads and Further Reading
On music-scores.com we have thirty arrangements of Pietro Mascagni's sheet music in PDF format for you to download.
Read more about this composer on the Pietro Mascagni website and at Britannica.