Flotow Sheet Music and Biography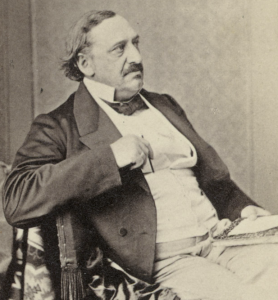 Friedrich Adolf Ferdinand von Flotow was born on 27th April 1812 in Teutendorf a village in Lübeck, Germany.
His opera Martha was very popular during the 19th and early 20th centuries.
We have Flotow sheet music The Last Rose of Summer, Qui sola, vergin rosa from the 2nd Act of Martha featured on our main site.
Life
Flotow was born into an aristocratic family in Germany but he was educated in France. Although his family initially wanted him to follow a diplomatic career, at the age of 16 he went to study music at the Conservatoire de Paris. Friedrich was a contemporary of the Czech born composer Anton Reicha. Many renowned composers including Auber, Rossini, Meyerbeer, Donizetti, Halévy, Gounod and Offenbach all influenced Flotow whilst he was at the Conservatoire. His operas have a French opéra comique feel to them because of this.
Career and Works
Flotow composed about 30 operas. He finished his first one Pierre et Cathérine in 1835. Two years later he produced his first brief version of the opera Alessandro Stradella. He revised this in 1844. Critics regarded this opera as one of his best works.
The opera Martha was first staged in Vienna on 25th November 1847 and it quickly became very popular. It went on to be translated and performed in many European cities. The Groves of Blarney, a well known Irish tune is taken from the melody of the Last Rose of Summer.
Flotow was the Intendant of the court theatre at Schwerin between 1856 and 1863.
Later Life
Friedrich spent most of his later years living in either Paris or Vienna and had the pleasure of seeing his operas performed across the continent.
He died in Darmstadt on 24th January 1883 leaving his opera Rosella unfinished.
Flotow Sheet Music Downloads and Further Reading
On music-scores.com we have a few arrangements of Flotow sheet music in PDF format for you to choose from.
Read more about this composer at Wikipedia, Britannica and Classical Music Midi Page.