Liguori Sheet Music and Biography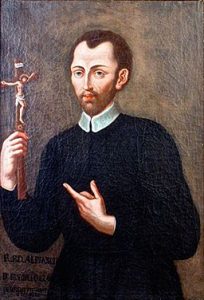 Alfonso Liguori was a Catholic bishop, theologian, lawyer, musician and composer. Liguori sheet music featured on our site is his most noted work the delightful Tu scendi dalle stelle or From Starry Skies Descending.
Early Years
Liguori was born near Naples in Italy on 27th September 1696. His father Giuseppe Liguori served in the navy and was Captain of the Royal Galleys. Though his family came from a noble background they were not at all wealthy.
Alfonso learnt how to ride and and fence but his poor eyesight meant that we would never be able to follow his father into the military. Instead Alfonso studied under private tutors before going to university to study law at a very young age. He graduated at the age of 16 from the University of Naples with doctorates in both Civil and Canon law (Christian church law).
Liguori joined the Confraternity of Our Lady of Mercy when he was 18. He helped in caring for the sick at the hospital for "incurables".
Practicing Law
He spent eight years working as a lawyer and was very successful but decided to leave the profession after losing his first case and follow a calling into priesthood.
Religious Calling
Alfonso was ordained a priest on 21st December 1726 when he was just 30 years old. He spent his first years in the priesthood working with homeless people and the youth of Naples. Liguori founded Evening Chapels in Naples. The Naples youth managed these chapels themselves. The chapels became community centres for prayer, preaching, education and social activities.
In November 1732 Liguori founded the Congregation of the Most Holy Redeemer, more commonly known as the Redemptorists. This was a missionary society that Alfonso created to support and minister to the poor people of Naples and the surrounding area.
Composer and Author
Liguori was also a gifted musician and composer. He wrote quite a few popular hymns which he taught to the people in the missions. It was whilst staying at the Convent of the Consolation he wrote the carol Tu scendi dalle stelle (From Starry Skies Descending). You can download Ligouri sheet music for this carol on our main site. Liguori's song originally began "Quanno nascette Ninno" or "When the child was born". The song was traditionally associated with the Italian bagpipe or zampogna. Because of the the song became known as the Carol of the Bagpipers.
Liguori wrote many spiritual and theological works. His greatest work was The Moral Theology, a nine volume publication.
Alfonso devoted his life to ministering to others especially the poor and needy. Though he tried to refuse the appointment, Liguori was consecrated as the Bishop of Sant' Agata de Goti in 1762. His deep felt care for others caused him to sell his carriage and Episcopal ring, giving the money to the poor.
Later Life
He suffered with poor health for his entire life and resigned from the church in May 1775. Liguori carried on living with his Redemptorist community in Pagani where he died on 1st August 1787.
Pope Gregory XVI made Alfonso Liguori a saint on 26 May 1839.
Liguori Sheet Music Downloads and Further Reading
On music-scores.com we have two arrangements of Liguiori sheet music in PDF format for you to choose from.
Read more about this composer at Wikipedia or Saint of the Day.