Granados Sheet Music and Biography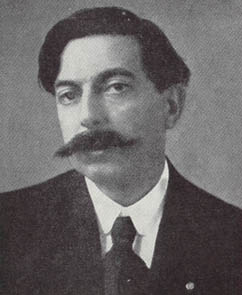 Enrique Granados was born on 27th July 1867 in Lleida, Spain. His father was a Spanish army captain originally from Havana.
Enrique is well known for his solo piano works such as Danzas Espanolas No. 5 Andaluza and Valses Poeticos Op.10 No.1. Browse all of our Granados sheet music.
He was also a leader of the movement towards nationalism in late 19th-century Spanish music.
Life and Career
As a young man, Granados studied the piano in Barcelona, initially from an army bandmaster. He also studied composition under Felipe Pedrell who was the father of Spanish nationalism in music.
In 1887 Granados went to study in Paris. Unable to study at the Paris Conservatoire he obtained private lessons from one of the professors. He returned to Barcelona in 1889.
In 1898 his first opera Maria de Carmen was premiered and was well received. It even attracted the King's attention. His 12 Spanish Dances (12 Danzas españolas) was hugely popular.
In 1900 Granados founded his own piano school and produced some prominent players. He maintained his involvement until his death.
Between 1911 and 1913 Granados's created his famous pieces, the Goyescas. They were based on paintings and tapestries by Francisco de Goya. They were then adapted into opera which premiered in 1916 in New York. Immediately following this Granados received an invitation from President Woodrow Wilson to play at the White House. The timing of this proved fatal as it resulted in him missing his boat to Spain and instead, having to take a boat to England then another to France. It was on this crossing on 24th March 1916 that Granados lost his life trying to save his wife when a German torpedo hit their boat.
Granados Sheet Music Downloads and Further Reading
On music-scores.com we have over fifty arrangements of Enrique Granados sheet music in PDF format for you to download.
For further information take a look at Wikipedia and Britannica.