Pryor Sheet Music and Biography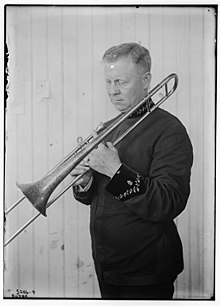 Arthur Willard Pryor (born 22 September 1869*) was an American trombonist, bandleader/ conductor, and composer.
His best-known compositions are 'On Jersey Shore', Queen Titania, and 'The Whistler and His Dog'.
He composed around three hundred works including novelties, marches, tone poems, and three light operas (Jinga Boo, Uncle Tom's Cabin, and On the Eve of Her Wedding Day).
On music-scores.com we have a small selection of Pryor sheet music including 'The Whistler and his Dog'. If you are not familiar with this piece take a look at the YouTube clip below.
Life and Career
Arthur Pryor was born in St. Joseph, Missouri into a musical family. His father was the leader of Pryor's Military Band, his brother Walter was a cornetist, and his younger brother Samuel was a drummer. By the time Arthur was eleven he was playing the trombone in his father's band and became quite a personality in St Joseph. He joined the band of cornetist Allesandro Liberatti in 1889 and then went onto join the prestigious Sousa Band as a featured trombone soloist. The band included some of Pryor's compositions in their performances. After six years of being in the band, he was promoted to assistant conductor, however, in 1903 Pryor left the band to form his own, which became very successful, performing both life and recordings.
Pryor married and had three sons; 'Roger Pryor' who developed into a bandsman and film actor; Arthur Jnr. who became a bandleader and advertising executive and Samuel.
In 1933 Pryor retired from full-time composing. However, in 1942 he was asked to conduct a concert series in Asbury Park (a location the band previously regularly performed in). By this time Pryor was in his seventies and sadly suffered a stroke on 16 June 1942 dying two days later.
There is a bandstand / bandshell in Asbury park bearing the name of Arthur Pryor. It only plays the works and arrangements of its namesake.
Pryor Sheet Music Downloads and Further Reading
On music-scores.com we have a selection of Pryor sheet music in PDF format for you to download.
For further reading on this composer take a look at Wikipedia and All Music.
(*He might also have been born in April 1869)