Gershwin Sheet Music and Biography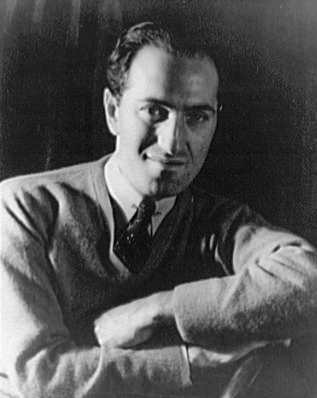 George Gershwin was one of the most famous American composers of all time, writing mostly for musicals. He combined many of his techniques in classical music with jazz and popular music.
I Got Rhythm and Walking the Dog are two great examples of Gershwin's musical talent which we have available to download on our main site.
Life and Career
Gershwin was born in Brooklyn, New York on 26th September 1898 to his Russian immigrant parents. He grew up in the Yiddish Theatre District (occasionally appearing on stage as an extra). Surprisingly he didn't experience a musical upbringing and it wasn't until he was ten that he became interested in music after hearing a friend's violin recital. It was at that time that his parents bought a second-hand piano for his elder brother Ida. To Ida's relief, George's interest in the instrument distracted from his lack of it.
After a few frustrating years of looking for a decent piano teacher, he was introduced to Charles Hambitzer around 1913. He remained Gershwin's musical mentor until his death in 1918.
Gershwin published his first song at the age of seventeen – "When You Want 'Em, You Can't Get 'Em, When You've Got 'Em, You Don't Want 'Em". It earned him 50 cents! By 1919 he achieved his first big national hit with his song 'Swanee'.Fred Astaire and Ginger Rogers in 1936. This was an extensive piece in which George married ballet and jazz together, taking many months to write. Promenade or Walking the Dog is a delightful prelude piece from the film.
In 1937 George began to complain of headaches, mood swings, and experience various out-of-character incidents including pushing someone out of a car. Whilst performing he also experienced coordination problems and blackouts. On 9th July 1937, he collapsed and was diagnosed with a brain tumor. Two days later he underwent emergency surgery to remove it but sadly he died just a few hours after the operation. He was just thirty-eight years old.
Gershwin Sheet Music Downloads and Further Reading
We have a selection of George Gershwin Sheet Music in PDF format for you to download.
For further reading the Gershwin website has wealth of information as well as Wikipedia and Britannica.